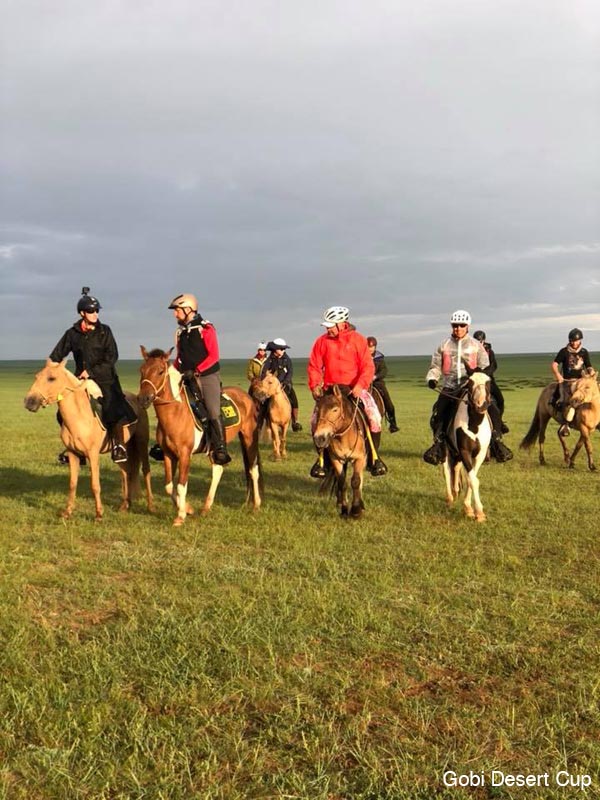 August 26 2018
The riders are all in for Day 3! What an exciting day for all.
The day started cold and raining but by the time we began, a rainbow promised good luck to the riders.
At the 15km mark, Cele Stone was having knee problems and Howard Kent had a slow horse keeping them in the back. Cele decided to withdraw and the officials made the decision to switch horses for Howard, so he trotted off happily.
Until his horse decided he didn't want to go forward anymore and he had to withdraw at the 30km.
With two riders out we checked in at the halfway point with the other riders to find the US team member Bob Gauthier had a fall when his horse tripped and rolled. Bob was okay but when taking the reins to mount his horse spun and kicked him in the abdomen. He mounted and continued to the checkpoint where the doctor examined him and approved him to continue. Sore but determined, Bob powered through to finish in 4th place.
Unable to complete the course yesterday, Tania Orlov stuck with the leading group of riders and came whooping across the finish line wit arms outspread at a gallop.
She was quickly followed by the remaining riders to take their places.
Once part of the lead group of riders, Peter Breidahl walked his horse 12km after being thrown off and met with Michael Shaw and Ruth Benney on their horses. Traveling together to the end, they all tied. But then there had to convince their horses to trot again for the vet check.
Leading up to the 55km checkpoint, one of the herdsman working with the Gobi Desert Cup met up with slower riders Stephanie Scott, Kasmira Graham, and Amy Eighteen on the horse ridden by both Cecilia Stone and Howard Kent, and showed us all how Mongolians ha dale horses effortlessly. They continued to ride together to the end of the course tying for last place.
The final placing are as follows:
Tania Orlov

Allan Horn

Mathilde Schwartz

Bob Gauthier

Jon Heeboll

Jeff Stuart

Christoph Schork

Elodie Maillard

Claire McManus

Tie: Michael Shaw, Ruth Benney, and Peter Breidahl

Tie: Stephanie Scott, Kasmira Graham, and Amy Eighteen
More at:
http://www.endurance.net/international/Mongolia/2018GobiDesertCup/