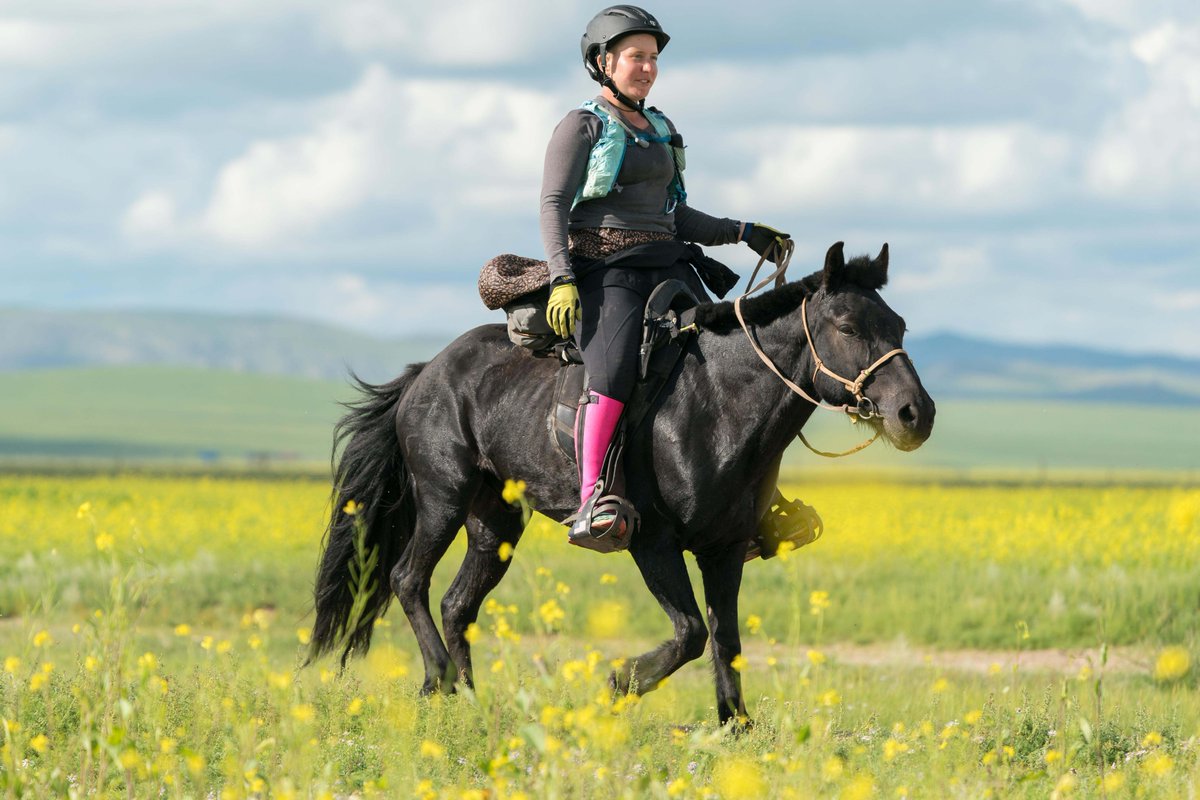 August 12 2018
With roughly half the distance of the 10th annual 1000-km Mongol Derby distance completed for ongoing competitors, returning Mongol Derby veteran, Texan Devan Horn, had the lead at horse station 18. The horse she was riding failed the vet check (apparently failed to pulse down within 30 minutes), and she was out a "smidge" past racing hours, and as per vetting and rest-hour rules, she racked up a 2 hour 8 minute penalty which she'll sit at out HS 18, which should tighten up the leading pack.
This is Devan's third time to ride the Derby. In 2013 she crossed the finish line first, but ended up as runner-up when her horse didn't pulse down in time at the finish, and her incurred vet penalty allowed the second finisher to win. She returned for the 2015 race, but fell ill during it, and had to drop out. "She is she is riding as if there is unfinished business. Which of course there is," tweeted @Mongolderbylive.
With weather wreaking havoc on the ride management - a swollen river prevents them from driving across it and keeping up with the leading riders - the intrepid riders and horses continue onward.
The radical weather delayed the start of the Mongol Derby by a day. @mongolderbylive tweeted on August 11, "Even the more casual observers will have spotted that the riders have seen hail, flooding, storms, blazing sun and today it's cold & wet. One of the more challenging aspects of the race."
Californian Maddie Smith had a bad fall on Day 2, dislocating her shoulder and cracking her ribs. She was hoping to beat the Mongol Derby this year, after having had a fall in the 2016 Derby, where she sustained a concussion and could not continue. Maddie is staying on in Mongolia, and will be at the finish line, waiting to cheer in her comrades on the steppe.
44 riders from Australia, Botswana, Canada, Ireland, The Netherlands, Pakistan, Portugal, New Zealand, UK, Uruguay, South Africa, and the USA started in this year's edition.
More live updates at:
https://www.mongolderby.com/adventures/mongol-derby/updates/