The first Euston Park event on the Endurance GB 2018 Calendar took place this past weekend with the venue and participants buzzing at the recent news that the 2019 European Championships has been awarded to Euston Park (GBR).
27th June 2018 – for immediate release
The first of four instalments of the Euston Park Endurance events on the Endurance GB Calendar took place this past weekend in glorious sunshine. The ever-popular venue saw a total of 75 combinations from nine different nations competing across distances from 80km to 160km over two days of competition. With the very recent announcement that Euston Park has been awarded the 2019 European Endurance Championships, the venue was buzzing with excited talk of things to come.
Saturday's CEI1* saw 15 successful finishers from 24 starters and some very impressive performances despite the testing conditions. British rider Carina Kane took third place with her horse Evermore Artistic, competing in their first ever FEI event. Kane stated 'I can't believe that we finished third, I came here with absolutely no expectations and just wanted to get round. We came all the way from Cornwall but it turns out it was definitely worth it!'
British riders competing in the CEI2* had a 75% completion rate, with 7th placed Chaminda Manjula Rodrigo's ride Bahia Du Cambou having the fastest recoveries of the class – a total of just 10 minutes and 10 seconds, including the finish.
There were three classes taking place on the Sunday; the CEI3*, CEIYJ2* and a second CEI1*. First place in the CEI3* went to Saif Ahmed Mohammed Ali Al Mazrouei (UAE) who's horse, Quetzal Arvorig, took an average of just under 2.20mins to present at each vet gate, an impressive result given the extremely hot weather. There was one British entrant in the CEI3*; Kirsty Wiscombe with her stallion YawlHill Billy. Unfortunately, their day was cut short when 'Billy' was judged to be lame at the first vet gate and subsequently failed to qualify for the next phase. Better luck was bestowed upon the only other two British entrants, both of whom were competing in the CEI1*. This class had an extremely impressive 82% completion rate with Nicola Thorne (riding LM Bolena) and Charlotte Strang (riding Bolero Phantastik) finishing in 8th and 9th positions respectively.
A huge amount of effort went in to ensuring the very best for horses and riders alike with such testing conditions. Unlimited ice was available on both days helping to cool the horses as efficiently as possible. A number of improvements have been made to the tracks since last year, with the ground more forgiving, despite there only being 7mm of rain in the seven weeks running up to the event. Tracks were watered on a regular basis to minimise the dust and some crew points had been moved to ensure crews had more consistent and better access to their horses out on course.
As is now customary with Euston Park events, the main focus is the Best Conditioned Award presented for each class. The entire prize money fund is dedicated to this prestigious accolade as judged by the Members of the Veterinary Commission. Winners of the Best Condition Award were:
CEI1* (Sat) – Bon Jan Na'Do ridden by Rashid Mohd Ibrahim Al Baloushi (UAE)
CEI2* (Sat) – Afreet ridden by Mariam Adnan Abdulkarim Al Raid (UAE)
CEI1* (Sun) – Beduina Mt Noby ridden by Raed Mahmood (BRN)
CEIYJ2* (Sun) – Dji'nha de Fignols ridden by Salim Said Al Owais (UAE)
CEI3* (Sun) – Alandar ridden by Ghaith Abdul Wahid Khamis Saqer (UAE)
Event Director, Nick Brooks-Ward of HPower Endurance, said: 'This was a great start to what promises to be a fabulous summer at Euston Park culminating in the H.H. Sheikh Mohammed Bin Rashid Al Maktoum UK Endurance Festival on Friday 17, Saturday 18 and Sunday 19 August—a celebration of all things Endurance. There's huge excitement around the venue with this week's news about us winning the bid to host the European Championships here in 2019. As ever huge thanks go to the Duke of Grafton for allowing us to use Euston Park for another year, to local land owners and all of our stewards and volunteers.'.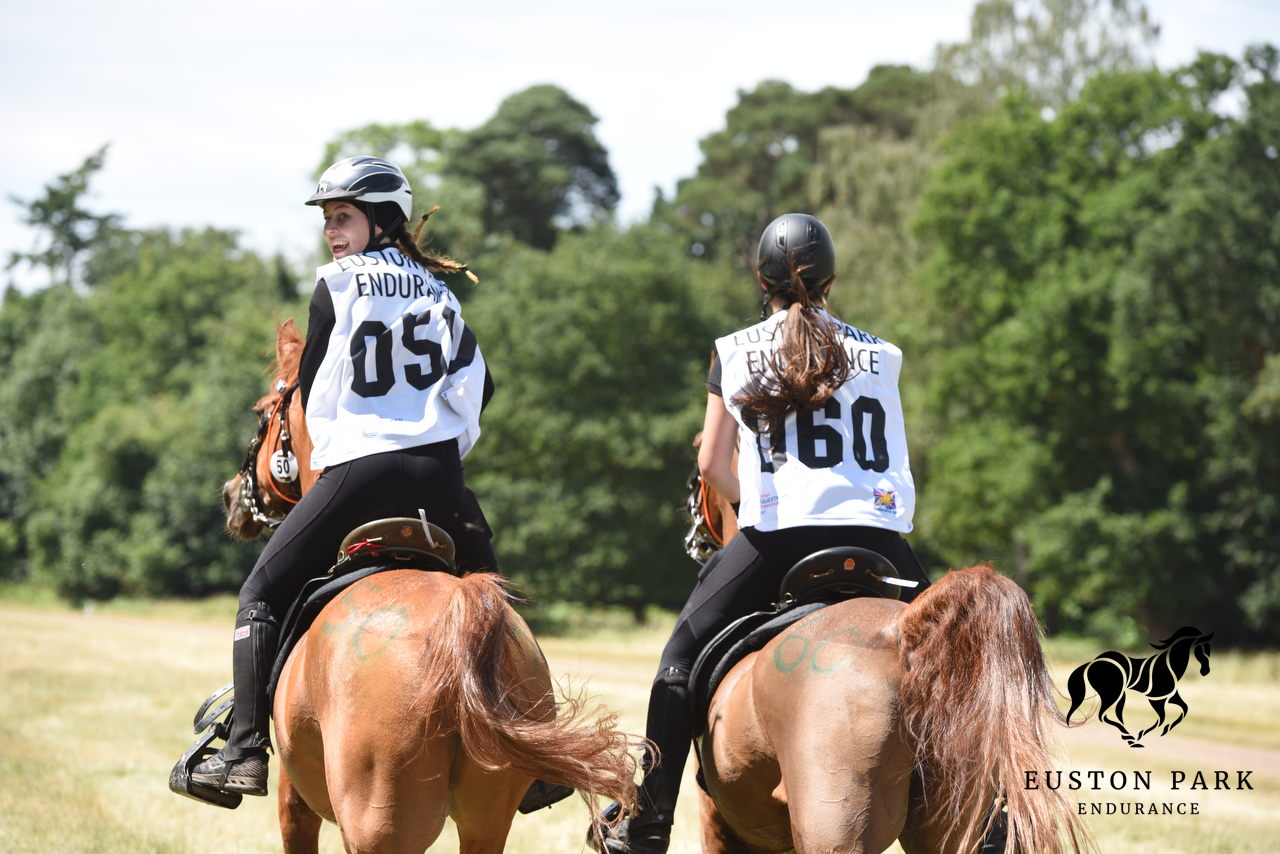 Euston Park Endurance - (Sat) CEI1 athletes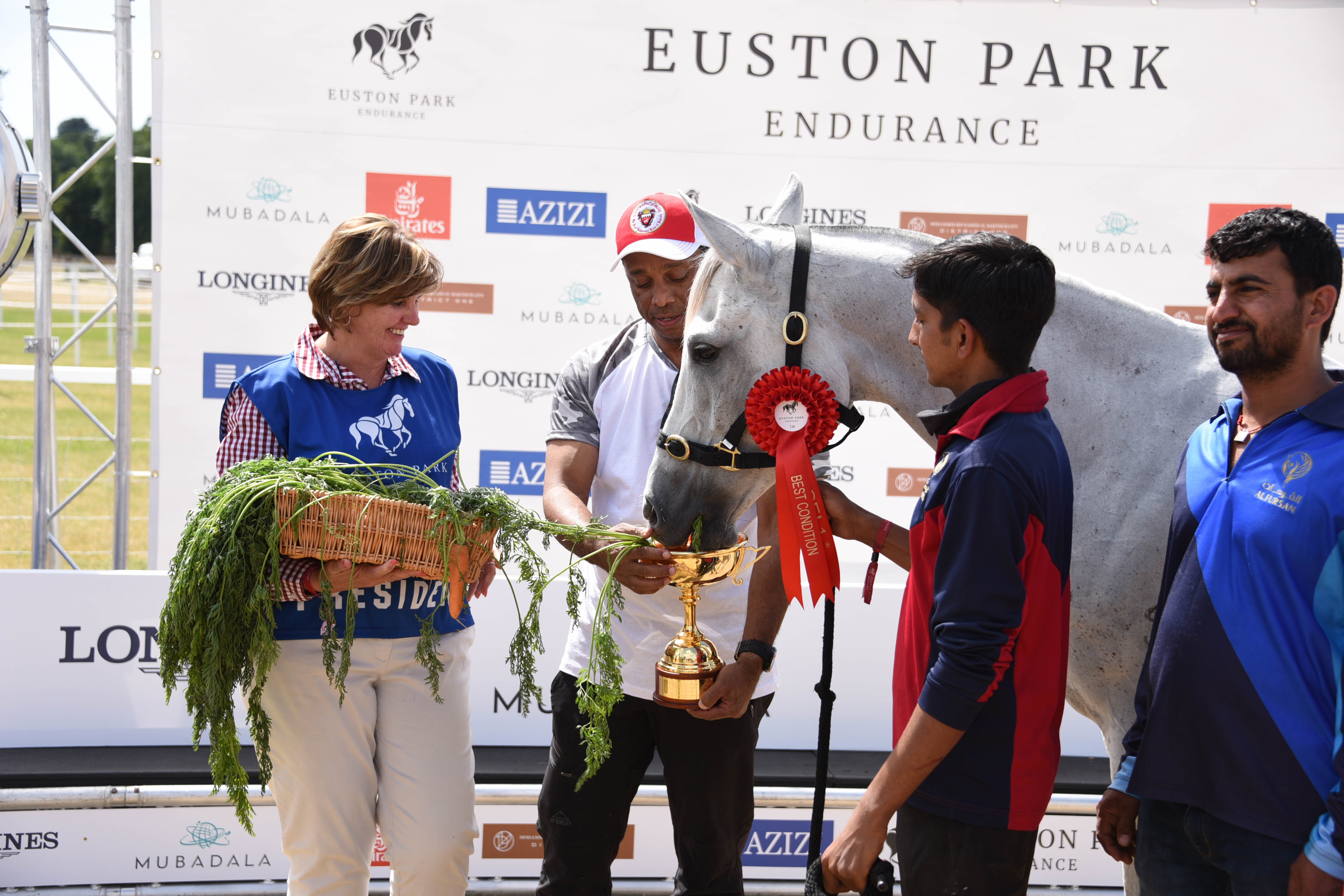 Euston Park Endurance - Best Condition (Sun) CEI1 Beduina Mt Noby ridden by Raed Mahmood (BRN)