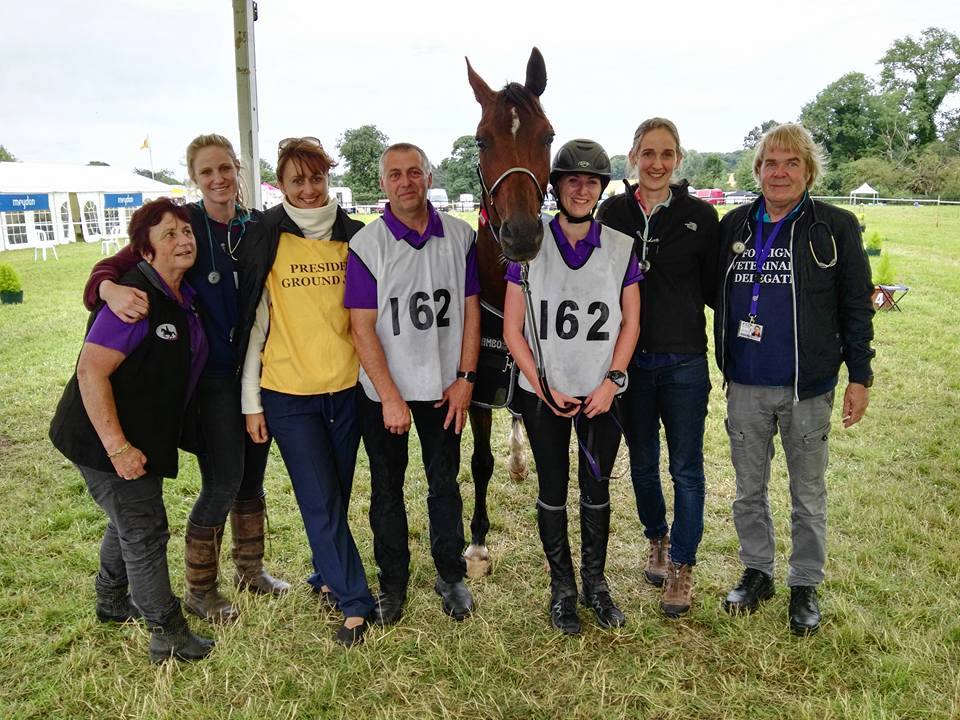 13 July 2016

Carri Ann Dark completes 240km at Kings Forest International Endurance Ride.
On Saturday 9th July, an international field of riders set off on the ultimate test of horse and rider, the CEI3* 160km (100 mile) endurance ride, across beautiful Suffolk countryside. Carri Ann Dark (25) riding 12yo gelding, Vavavoom, took an early lead in the gruelling ride, flying through the mandatory vet inspections at the end of each loop. Carri managed to maintain her lead in the class, although Swiss rider, Barbara Lissarrague aboard Ainhoa Arkiris, was hot on her tail and managed to close the gap significantly through the course of the day. Barbara's efforts were not quite enough to clinch victory as Carri put in an impressive last loop with a speed of 19.5kmph to finish with riding time of 09:52:45. Barbara crossed the line just minutes later with a total riding time of 09:57:35.
Carri's aim was simply to complete the ride and bag her championship qualification and was amazed to have come away with 1st place. Carri commented that "it was amazing to have Vavavoom back on top form after having nearly 18 months rest. We are so proud of him, it means the world to us". Her victory was not made easy with fluctuating weather conditions making the course challenging with some areas becoming slippy and others very hot and humid.
Most riders after completing 160km tend to take it easy the next day, a hot bath maybe, a leisurely stroll? Carri's steely mentality would not let her miss an opportunity to qualify one of her other young horses and rode Bey-Shamadahl in the 80km Graded Endurance Ride the next day. Another successful completion under her belt meant Carri had completed 240 competitive kilometres around Kings Forest!
In the CEI 2* 120km class two riders from the UAE; Rashid Mohamed Ibrahim Al Baloushi and Abdulla Saeed Bin Huzaim took 1st and 2nd place respectively. Just 15 minutes behind was British rider, Abigail Taylor riding Warrens Hill Elanzo who was just a length ahead of fellow rider, Chris Wray riding Takwenya in an exciting racing finish. Abigail commented that whilst she was "not expecting to have a racing finish I felt that he [Warrens Hill Elanzo] had plenty of fuel in the tank to go for it and he proved me right". Both horses are by the famous endurance sire Chatanz and were neck and neck right up to the line.
All three young riders in the CEIYJ 2* 120km class completed the competition within qualifying speed meaning they are now all qualified for young rider championships. Abigail Chisholm won the class aboard Abbi Tennant's Barik. So far the 120km completion had evaded Abigail, and she was delighted to have finally conquered this distance.
Overall the completion rate over the FEI classes was high at 64%. Ride organiser Di Luke believes that the course is one of the best in the country "the forest is so giving, there are lovely long stretches where you can just bowl along". She also added that the "water and ice out in the venue was a real benefit to everyone". Riders commented that the venue was superb and the added benefit of all classes having electronic timing was extremely well received. Di commented how she "loves the fact that a 16km pleasure rider uses the same tracks as the 160km3* riders". Both Meydan and Science Supplements must be thanked for their generous support of this international endurance event.
Detailed results available here -
http://www.enduranceresults.info/endurance-team-styria/results-2016/
The CEI Kings Forest Event took place on the 8th, 9th and 10th of July 2016 and saw a host of both International and National competitions ranging from the CEI3* 160km, CEI2* 120km and CEI1* 80km distances right through to 16km Pleasure rides. This event is a major event on the 2016 Endurance GB Competitive Ride Calendar, organised by Dianne Luke and supported by local volunteers. Kindly sponsored by Science Supplements and Meydan.
Endurance GB - National Governing Body for competitive Endurance horse riding in Great Britain a member body of the BEF. Offering rides for non-members and members from pleasure rides to competitive rides
www.endurancegb.co.uk