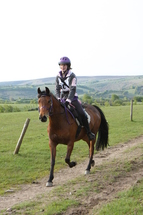 Horsemart.co.uk - Full Article
Tuesday 29 March 2011
Endurance Young Rider champion Abby Chisholm will escort eventing star Mary King in May when she takes part in the daunting 160k (100-miles) Golden Horseshoe Ride over Exmoor.
Mary, British champion a record four times and holder of an Olympic Silver medal, will be riding the first 25 miles of the course over terrain reckoned to be among the toughest in Europe.
Fifteen-years-old Abby, from Lydford on nearby Dartmoor, has competed in the Golden Horseshoe and knows Exmoor and its challenges. She had hoped to ride in the 160k class this year, but has decided to postpone it to concentrate on her studies which she hopes will lead to a place at Duchy College in Cornwall for an Equine Sports Performance course...
Read more here:
http://www.horsemart.co.uk/news/endurance_champion_abby_15_to_escort/2378