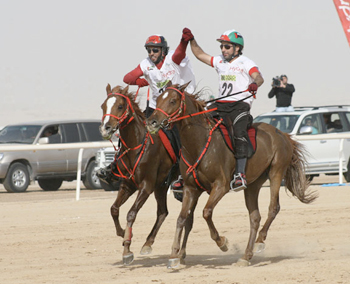 The 2009 HH The President of UAE Endurance Cup concluded with a win by
Yousef Ahmed Al Bloushi riding Charlandre El Sharif, the new world record holder at this distance with a winning time of 6:30:53.
Also at the podium were Omair Husain Al Bloushi who finished 2nd riding Silversprings Kabir Arwa and Naser Al Marzouki finishing 3rd on Kaysand Farrazah. (Kaysand Farrazah was the winning horse in the 2008 Presidents Cup ridden by HH Sh Hamdan bin Mohamed Al Maktoum.)
Second place horse, Silversprings Kabir Arwa, won the coveted Best Condition Horse awards.