Full coverage on Endurance.Net
12th February 2009
Merri Melde
Endurance.Net
The 10th Running of the His Highness the President of the UAE Endurance Cup FEI CEI*** 160 km will be held at the Emirates International Endurance Village, Al Wathba, Abu Dhabi on February 14, 2009.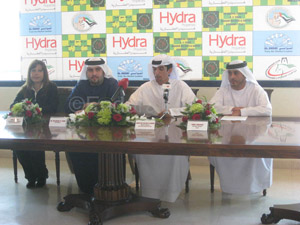 The race is sponsored by Hydra Properties, Shaikh Mansoor Bin Zayed Al Nahyan's Al Wathba breeding stables of Normandy, France, and Al Awani General Enterprises Establishment, whose support for equestrian activities in general and endurance races in particular is an integrated partnership between the economic and sport sectors of the UAE.
---

Gulf News article: President's Cup winners will ride away with Dh1.5m and cars
Abu Dhabi: A whopping Dh1.5 million and four cars are up for grabs in the President's Cup 160-km endurance ride to be held at the Emirates International Endurance Village in Al Wathba tomorrow.
---
An amount of 1.5 million AED has been allocated as cash prizes and will be distributed to all riders who complete the race. In addition, four cars will be awarded as prizes to the 1st, 2nd, and 3rd places, and for Best Conditioned Horse.
115 riders are expected to participate, including 20 foreign invitees from France, Spain, Portugal, Italy, USA, Germany, Belgium, Australia, Poland, and Jordan.
The ride will consist of 6 loops of 34, 32, 30, 24, 24, and 16 km, with holds of 30, 30, 30, 50, and 40 minutes, with 2 presentations to the vets at each hold. Minimum weight carried is 75 kg, and maximum pulse is 64 bmp, with recovery inspections during the 4th and 5th holds.
The race begins at 6 AM.
Foreign riders:
Belgium - Maritza Pereira - Taborah De Sier
France - Phillippe Benoit - Akim Du Boulve
- Caroline Denayer - Kouleur Du Parc
- Pascale Dietsch - Hifrane Du Barthas
Australia - Penny Toft - Kitt
- Kristie McGaffin - Castlebar Darthvader
- Meg Wade - Castlebar Kalahari
Spain - Jon Zabalua Dorronsoro - Eteldjel De Peyrinie
Portugal - Rui Pereira - Trovador Da Oliveirinha
- Joao Raposo - Titanic
USA - Janice Worthington - Golden LIghtning
- John Crandell - LR Jasuur Melika
Italy - Simona Garatti - Drago Sauro
- Patrizia Giacchero - Sunny Boy
- Cinzia Iacchelli - Missouri
Germany - Belinda Hitzler - Shagar 5
Stefanie Arnold - TBA
Rebecca Arnold - TBA
Poland - Beata Dzikowska - Cyryl
Kamila Kart - Cert
Jordan - Farah Abunameh - Zarazeen