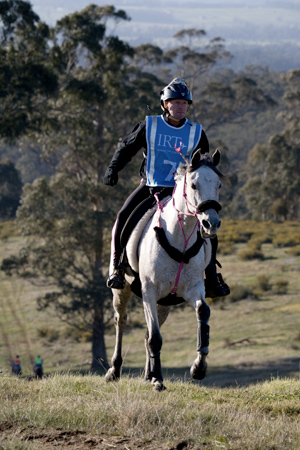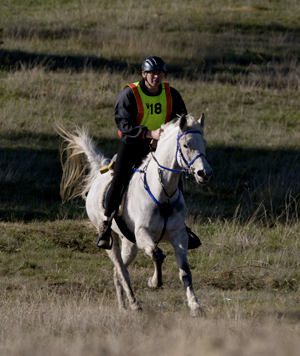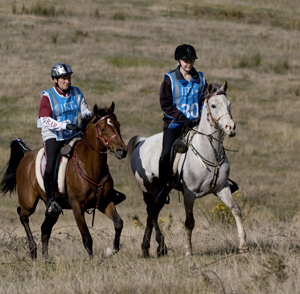 Photographer-Mark Jones: (top) Rohan Stane Shuja Bint Melika, (middle) Ken Bradley riding Pheonix Park Epona, (bottom) Linda Tanian riding Castlebar Darth Vader and Zoe Gardner riding Splitters Creek Fortitude
Australia's best test 160km endurance course at Tonimbuk
Over 50 endurance riders, including some of Australia's best and several international entrants took the opportunity last weekend to ride the endurance course that will become the Tom Quilty Gold Cup National Championship course in September 2009.
This preview ride, known as the FEI CEI 3 * provided entrants with a range of ride options depending on their capability level. Options included a 160km ride, referred to as the 3*, 108 km FEI 2* ride and an AERA 108 km Elevator ride. All ride categories were open to both adult and junior riders.
Based at the world-class Tonimbuk Equestrian Centre in Bunyip, Victoria the challenging course included six phases, passing through the magnificent Bunyip State Park, traversing private land, bush tracks and all weather roads. Each phase varied in distance with riders required to vet in at base prior to heading off for the next phase.
Event Director, Lissy Verity could not have been happier. "We had riders from Tasmania, South Australia, New South Wales and Queensland, all of whom were warmly welcomed by the Victorians," she said. "International riders from Malaysia and guests from New Zealand and the USA also turned up to either participate in the ride or be dazzled by the facilities of the Tonimbuk Equestrian Centre. We also had visitors from the UAE stables."
Whilst the weather forecast had been for heavy rain in the preceding week and over the weekend riders were not deterred. Those competing in the 160km 3* ride headed off in the dark at 2 a.m. wearing specially designed torch lights attached to their riding helmets. All other riders started at the more civilised hour of 6 a.m.
What an exciting finish. With a time limit of 17 hours to complete the 3* ride, it was anybody's race right up to the line with three of Australia's top endurance riders coming in within a second of one another. Open winner, Meg Wade crossed the line in 12:37:12 riding Castlebar Kalahari, closely followed by Penny Toft, riding Electra BBP Murdoch (12:37:13) and in third place was Jennifer Gilbertson on Ferrymaster At Webbs Creek in 12:37:14.
As a rider who has successfully represented Australia internationally Meg Wade was delighted with the overall performance of her Castlebar Arabian Endurance Horse team. "It was a safe yet challenging track," said Meg. "We had 10 horses entered in the event and we had 10 finish." Meg and Castlebar Kalahari also took out the Best Conditioned horse award.
Rohan Stanes performance really captured the essence and camaraderie of the endurance fraternity. Last to finish following some concerns with his horse, he returned to a standing ovation at 10.30 p.m. on Saturday night having spent nearly 17 hours in the saddle. Fellow competitors, officials, friends and family watched, some even shedding a tear, as Rohan's lovely grey Arab mare Shuja Bint Melika vetted in successfully. An experienced endurance rider, Rohan said the course was challenging with hills in all phases, and at times the going under foot was slippery. "Given the degree of difficulty of the course all the horses that completed the course did very well," he said.
Winner of the FEI 108km 2* Open category was Asher Batty riding Castlebar Dell. Brianna Bainger won the Youth category on Magic Glenn Katana and finishing first in the 3* 160km Youth category was Bridget Nottle riding Zara Farm Shadasj. The AERA Heavyweight winner was Ken Bradley riding Pheonix Park Epona, Middleweight division was won by Louise McCormack on Formosa Park Tali and the Lightweight winner was Natalie Thome riding Zayed Shakahn. The Junior division was won by Zeke Verspaandonk on Tonki Dee Boo Imagine, owned and trained by Ross and Debi Chisholm from Olivesprings.
According to Lissy Verity the course has now been tried and tested. "The track held up quite well considering the weather just prior to the event but there were some boggy spots. We have already reviewed the course and identified some areas of concern including traffic management, arena size and movement of spectators," she said. "We now have a much better insight to running the prestigious Tom Quilty Gold Cup National Championships and the 2009 event will be the best yet."
The Tom Quilty Gold Cup National Championship is legendary in Australia and internationally recognised as an event that truly tests the skill and strength of horse and rider as they compete to finish the 160km ride within 24 hours. It is one of the few events where riders compete as equals--world champions riding alongside juniors and first time Quilty riders.
For a comprehensive list of all the results visit
www.tonimbukgoldcup.org.au