Bahrain: Gulf News Article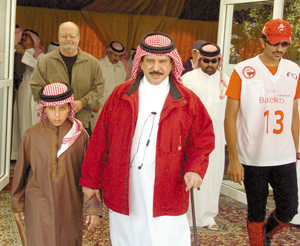 December 16
By RAMI HULAYYEL
ROYAL Endurance Team captain Shaikh Nasser bin Hamad Al Khalifa was crowned champion of the senior race while Abdulla Al Khatri notched the junior title yesterday in the National Day Endurance Horseride Championship at the Bahrain International Endurance Village in Sakhir.
More than 80 riders from Bahrain and Jordan took part in the inaugural race of the season which featured 120-km races for both senior and juniors besides two qualifying races open for new riders and horses.
Sponsored by Batelco, the main races were divided into five stages with 30 kms set for the first two stages, 25 kms for the third, 20 kms for the fourth and 15 kms for the fifth and final stage.
Shaikh Nasser, the Bahrain Royal Equestrian and Endurance Federation (Breef) president, astride Omsura Nasrohn, clinched the top prize, worth BD4,000, in five hours, 41 minutes and nine seconds.
Shaikh Nasser was just seven seconds ahead of Mohammed Al Dawadi, also of the Royal Endurance Team, who came second on Rebound among 48 riders.
The Royal Endurance Team rounded off the podium with Jaffar Merza finishing third in 5:41.22 on Mexico.
In the junior race with 23 riders in the fray, Al Khatri, astride Nekir Des Vernes, completed the race in 5:45.27, to bag the top prize of BD3,000. Mohammed Al Hasan was second in 5:05.52 and Fahad Sulaiman third in 6:14.14.
Royal Jordanian Equestrian Federation president Princess Alia bint Al Hussain, who arrived in Bahrain specially for this event, presented the trophies.
His Majesty King Hamad also witnessed part of yesterday's races. His Majesty was welcomed by Shaikh Nasser, Breef first vice-president Shaikh Khalid bin Hamad Al Khalifa, Breef endurance committee chairman Shaikh Faisal bin Rashid Al Khalifa, federation officials and other riders.
His Majesty also met Princess Alia
THE WINNERS
Name of the horse within brackets:
Seniors: 1 Shaikh Nasser bin Hamad Al Khalifa (Omsura Nasrohn, 5:41:09); 2 Mohammed Al Dawadi (Rebound, 5:41:16); 3 Jaffar Merza (Mexico, 5:41:22); 4 Singh Soong (Hurst Star, 5:41:58); 5 Sameer Singh (Shalum, 6:01:45); 6 Ahmed Al Ruwaie (Lorman Lorrane, 6:02:08); 7 Raed Mahmood (Djid De Bozouls, 6:15:39); 8 Subhi Jawarsheh (Bull, 6:37:54); 9 Alan Lyon (Max, 7:00:41).
Juniors: 1 Abdulla Al Khatri (Nekir Des Vernes, 5:45:27); 2 Mohammed Al Hasan (Hirouste Outlaw, 6:06:52); 3 Fahad Sulaiman (Al Hafeez, 6:14:14); 4 Ahmed Al Gaoud (Sumara, 6:28:12); 5 Shaikh Mohammed bin Khalid Al Khalifa (El Khar, 6:47:21).