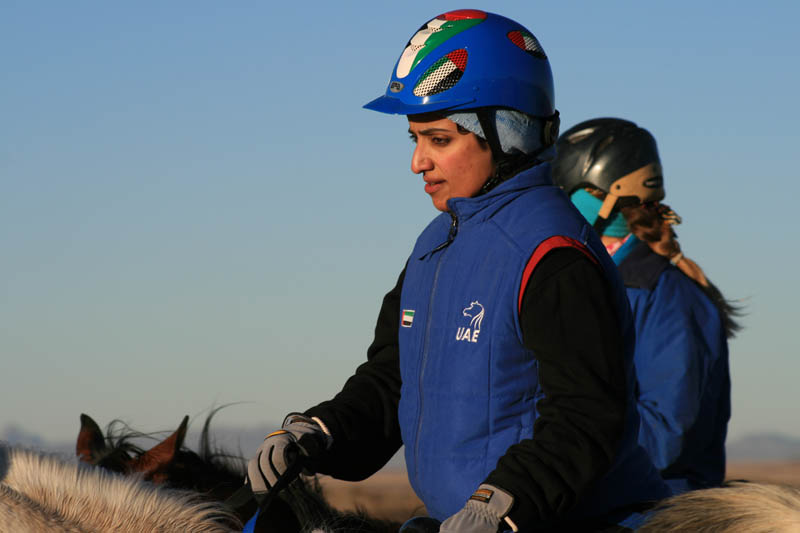 Photo: Sheikha Madiya Bint Hasher al Maktoum
New Years in New Mexico - Las Cruces CEI***
by Endurance.Net, December 31
Valerie Kanavy and King Ali Gold finished first at the Las Cruces CEI*** held December 30. After missing the trail in the dark and repeating most of the first loop, Kanavy and Ali worked their way up all day with steady progress on the trail and fast recoveries at the vetchecks, to overtake the leaders and finish well in front.
Sheikha Madiya Bint Hasher Al Maktoum was the top finishing foreign rider on Faberge (owned by Flight Leader Farm) with a 2nd place finish in the FEI division. Sheikha Madiya exhibited her 'Get Tuff or Die' farm motto as she rode the final loop with her left eye bandaged as a result of wind blown on an earlier loop.
Abdul Hamil from Malaysia and Kiyoshi Ozawa from Japan rounded out the foreign rider finishes in 4th and 5th place. His Royal Higness Mizan Zainal Abidin of Malaysia competed on the beautiful Dashing Lady but lameness at mile 50 forced his retirement.
The unusually cold temperatures and sandy tracks that became deeper as the day progressed took their toll on horses and riders at this ride with a 23% completion rate in the FEI 100 mile ride. The overall completion was 42% including the non-FEI division.
[More ...]