KUALA LUMPUR, Dec 11 (Bernama)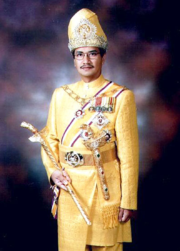 Sultan Mizan Zainal Abidin, who became the youngest Malay ruler when he ascended the Terengganu throne at the age of 36 in 1998, will also be among the youngest to be proclaimed Yang di-Pertuan Agong on Wednesday.
Under the five-year rotation system, Sultan Mizan will be proclaimed the 13th Yang di-Pertuan Agong, succeeding Tuanku Syed Sirajuddin Syed Putra Jamalullail, who ascended the throne on Dec 13, 2001.
Sultan Mizan 44, will be the second youngest Yang di-Pertuan Agong after Tuanku Syed Putra Almarhum Syed Hassan Jamalullail of Perlis who took office as King on Jan 4, 1961 at the age of 41.
A ruler concerned about the welfare of his subjects, Sultan Mizan makes efforts to go to all mosques in Terengganu for Friday prayers to be with the people and also continues with the practice of giving alms to orphans and the poor every Friday as done by his late father, Sultan Mahmud Al-Muktafi Billah Shah.
During his younger days, Sultan Mizan was like any other boys his age and liked to play football.
Sultan Mizan's concern for the well-being of his Terengganu subjects prompted him to set up the Sultan Mizan Royal Foundation, launched on July 19, 2005, in conjunction with his 43rd birthday, to organise and finance various programmes, including in research, forestry, science, technology and innovation, agriculture, fishery and community projects.
Sultan Mizan is also active in sports like football, golf, taekwondo and scuba-diving but due to his busy schedule, is only able to concentrate on equestrian sports.
The Sultan likes horse riding and has formed the Royal Terengganu Endurance Stable (RTES) to prepare the state for participation in equestrian sports locally and abroad.
His skills in horse riding is reflected in him winning the Wilga 80km Endurance Ride, Wilga Australia, and in a competition at Harris River Ride, Perth, Australia in 2004.
He was also selected to represent Malaysia at the Asian Games in Doha, Qatar, but had to withdraw his participation as the event coincides with the proclamation ceremony.
It is also through Sultan Mizan's dedication and initiative that Malaysia is selected to host the World Endurance Championship at Lembah Bidong, Terengganu, next year.
[More ...]