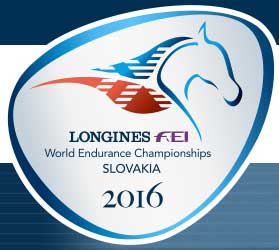 WECH2016.com
September 13 2016
46 countries, 5 continents, 136 riders, 149 horses ! The World Endurance Championship of Samorin promises to be a great event!
The best riders are gathered in Slovakia for the highest level of competition that exists in endurance.
If Sheikh Hamdan bin Mohamed al Maktoum is considered to be the ultra favorite, other rider can take the supreme title. Which one? This is very hard to say!
Unquestionably, UAE, Bahrain and Qatar are to be taken seriously. For the UAE, Sheikh Mohamed bin Rashid al Maktoum arrives with the best M.R.M Stables' team.
The countries of the Gulf have very good horses with beautiful and long career, like Leonardo, Ajayeb, Napoli del Mar and many others.
Uruguayan riders are known to be fast, but Spain presents a strong team with its two stars riders, Maria Alvarez Ponton and Jaume Punti Dachs.
Other countries have good chances too like France with Jean-Philippe Frances, and Slovakia with Mario Hoffmann, who can be galvanized by running at home.
Before the race, nobody can say who the winner will be. There are too many parameters to be taken into account: how did the horse travel, the configuration of the race, the weather, the fitness of both rider and horse the day of the race …   
And the coach can change riders and horses until the pre vet check and equestrianism is always a matter of the horse plus rider.
All that can be said is that this Championship will offer a very nice show.
So let's meet on next Saturday at the x-bionic® sphere – Samorin !