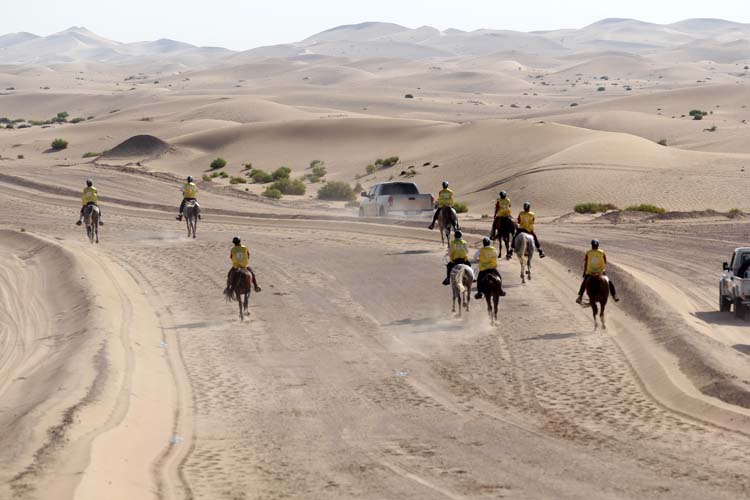 Enduroonline.com.br - Full Article
Summary of the situation
In Bouthieb, there are no more dead horses during the competitions or horses put down due to redhibitory fractures.
In Bouthieb, the speed is not the main obsession at the expense of the horses.
In Bouthieb, we obtain a rate of no-treatments that would make many organizers, many federations around the world green with envy.
In Bouthieb, ensuring above all the welfare of the horses is about to become again commonplace.
In Bouthieb, the horse has left the status of a tool to become a partner with whom we play.
Bouthieb is the rebirth place by means of the establishment of a concrete way of doing based on obvious facts, all this being made possible by the courage and determination of a prince who is not afraid to upset the world in order to "simply" return to the fundamentals of endurance.
Is it so hard to do the same somewhere else?
ORGANIZING ENDURANCE COMPETITIONS in the UAE
Every year, the National Federation of the UAE publishes the calendar of the season which will be amended if necessary as the weeks go by. It is the result of negotiations between the three organizing committees and the federation.
The resulting official calendar is made in such a way that the distribution of the rides is balanced equally. There are 22 competitions in each of the three venues for the 2015/2016 season, totaling 66 for the country (January 1st 2016 edition).
Bouthieb alone represents 33% of the UAE competitions for the current season. So it is not a minor venue. We could even add that the "qualifiers" being more numerous, the number of horses that pass through Bouthieb make it the most important venue. A more detailed study would probably show that for an average year this site has between 40 and 45% of the overall number of horses in competition.
Then we must stop focusing on Dubai and Al Wathba thinking that Bouthieb represents a small thing in a corner of the UAE. Yet this is what surfaces in the news we can read here and there over the world.
It must be said that many articles are written from far away, and everyone knows that the longest the distance is, the more schematic, the more generalized the result is. And as sensationalism does not come from what is positive but almost always from what is negative, one darkens the picture, stigmatizes easily, turns over and over because of his resentment and forgets what is right and good, though it is necessarily where the future lies.
Without forgetting what is wrong and should not be, we will talk here of what happens in Bouthieb and the booming success of the new rules implemented, which have made the FEI move faster than any other measures had done before...
Read more here:
http://www.enduroonline.com.br/Bouthieb-Why-and-how-does-it-work.php