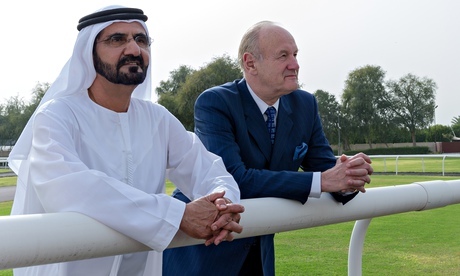 Theguardian.com - Full Article
• Investigation clears head of world's largest equine operation
• Management failings and complacency highlighted by review
James Riach
theguardian.com, Wednesday 12 February 2014 07.00 EST
Sheikh Mohammed bin Rashid al-Maktoum, the UK's leading racehorse owner, has been cleared of having any knowledge of three drug-related incidents involving his organisation last year, according to a report commissioned by the Sheikh himself.
Lord Stevens, the former Metropolitan Police chief commissioner, was employed to investigate a series of damaging incidents and interview a series of key figures. The report concluded that the seizures of unlicensed veterinary goods by British authorities resulted from "a sense of complacency" within the Sheikh's management structure.
Stevens interviewed several figures within Sheikh Mohammed's equine operations, including the disgraced former trainer Mahmood al-Zarooni who was banned by eight years by the British Horseracing Association in April 2013 for injecting thoroughbreds at the Godolphin stable with performance-enhancing anabolic steroids.
As revealed by the Guardian in September, the thoroughbred scandal was followed by later incidents within Sheikh Mohammed's endurance set-up, with veterinary goods described as "potentially toxic and dangerous to horses" seized from a Dubai Royal Air Wing flight at Stansted airport by the UK Border Agency and the Veterinary Medicines Directorate in May...
Read more here:
http://www.theguardian.com/sport/2014/feb/12/sheikh-mohammed-exonerated-lord-stevens-doping-scandal