(Doha, Qatar – March 21, 2010)
Al Shaqab Endurance Team, member of Qatar Foundation, swept the gold medals in the junior and senior races in this past weekend's HH Emir Endurance Cup at Qatar Endurance Village in Mesaieed, Qatar.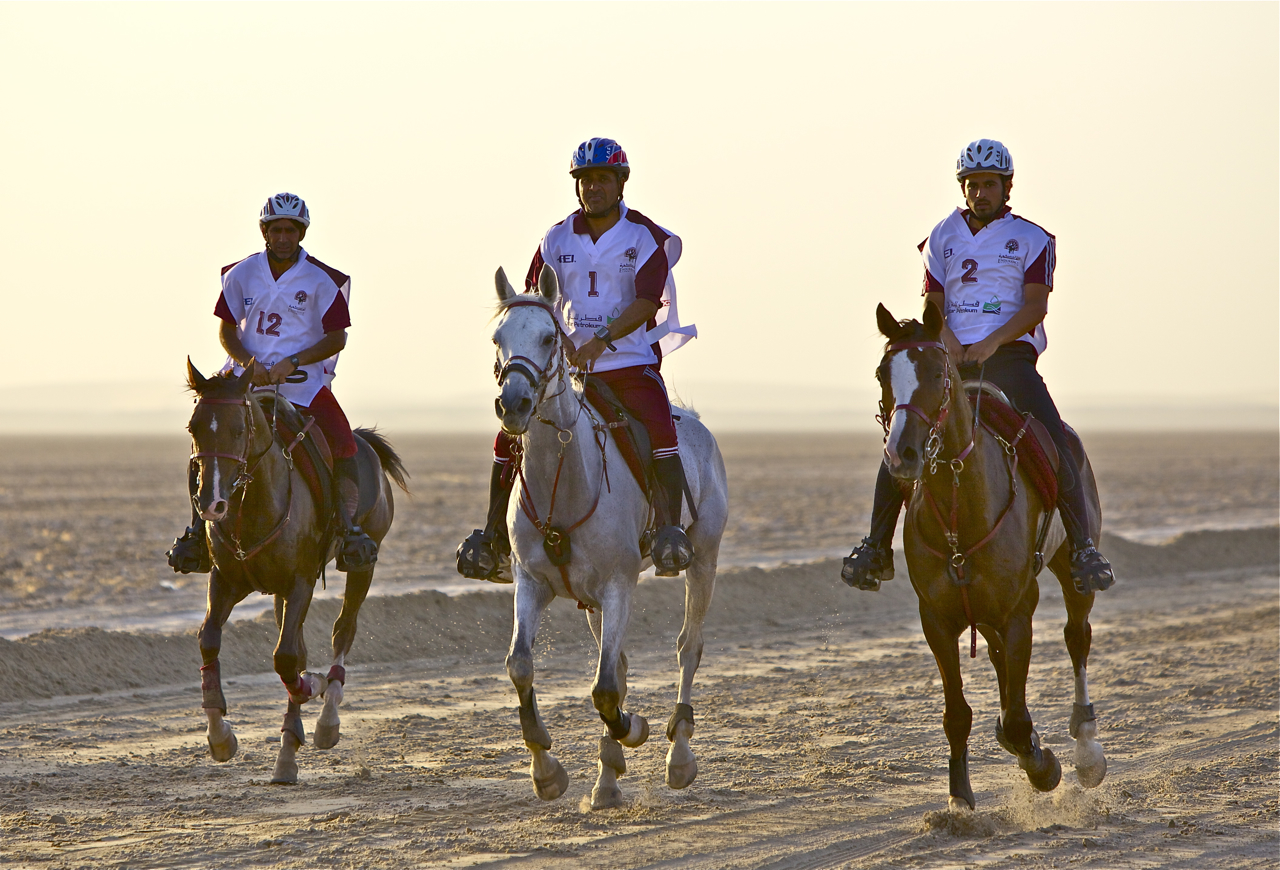 Three members from Al Shaqab's Endurance Team, member of Qatar Foundation, racing in the HH Emir Endurance Cup, which was held Friday at the Qatar Endurance Village near Sealine. From right to left are team members: Nawab Ali, Atta Mohammed Beer and Mohammed Tahous Saif Al Nuaimi. Atta Mohammed Beer, pictured center, won the Gold medal in the Senior 120km race.
In the 120 km Senior race, Atta Mohammed Beer won the gold medal with a total time of 5:21:32 hours on board In Situ. Mohammed Tahous Saif Al Nuaimi came in only four seconds behind to receive the silver medal in the senior race, riding Hidalgo. Abdulrahman Saad A Al Sulaiteen came in fifth on Love and Love and Nawab Ali finished in sixth on Henham Cactus Jack. Sajid Khan, Mohammed Sanad Al-Nuaimi and Abdulla Mohammed Abdulla Al Amri rounded out the top ten with 8th-10th place respectively.
In the 100km Junior race, Saad Sinan Al Kaabi secured the gold medal for Al Shaqab on Aloha Zelus with a time of 4:00:53 hours. Fourth through eight place were all captured by Al Shaqab riders. Essa Mohammed Al-Sulaitin came in fourth on Idaho Champ, fifth went to Mohammed Ali Mohammed Al Marri on Idaho Roxette and Khalid Sanad finished sixth aboard Parlour Mountain JOF. The race for seventh and eight place was only a four second margin between Ali Mohammed Ali Al Hammadi and Salem Rashid Mohammed Al Marri.
H H, The Emir, Sheikh Hamad bin Khalifa Al Thani founded Al Shaqab in 1992 to preserve and further develop the Arabian horse in Qatar. The organization is led by H E Sheikh Mohammed Bin Hamad bin Khalifa Al Thani and encompasses a Breeding and Show division, Riding Academy and Endurance Team. In 2004, Al Shaqab proudly became a member of Qatar Foundation. Al Shaqab's mission is to promote the highest standards in the breeding and showing of Arabian horses and provide innovative, educational and competitive opportunities in all of the equestrian arts.