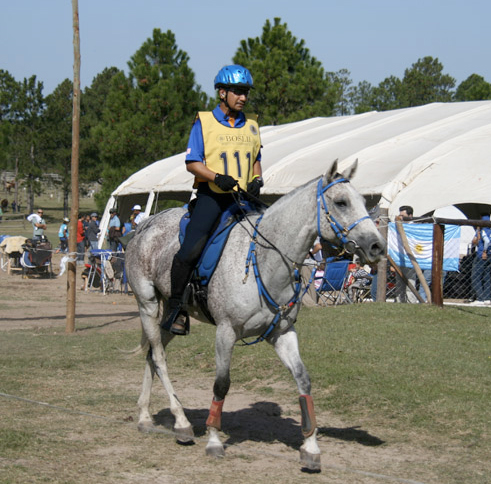 Bernama.com
April 27, 2009 14:47 PM
From Abdul Aziz Harun
MONTEVIDEO, April 27 (Bernama) -- Yang di-Pertuan Agong Tuanku Mizan Zainal Abidin and Raja Permaisuri Agong Tuanku Nur Zahirah today began their state visit to Uruguay.
Their Majesties flew in to the Carrasco International Airport in a special aircraft at 6.15pm Sunday (5am Monday in Malaysia), and were greeted by Uruguayan Foreign Affairs Minister Gonzalo Fernandez.
The royal couple was accompanied by Higher Education Minister Datuk Seri Mohamed Khaled Nordin as the minister-in-attendance and several senior government officers.
This is the second visit to Uruguay by a Malaysian head of state. The first was in September 1995 by the late Tuanku Ja'afar Tuanku Abdul Rahman.
The current state visit is also to reciprocate the state visit to Malaysia by Uruguayan President Dr Tabare Vazquez Rosas in November 2007.
Tuanku Mizan and Tuanku Nur Zahirah are scheduled to have an audience with Vasquez tomorrow. In the evening, the President will host a state banquet in honour of Their Majesties.
The visit is expected to provide impetus for improving bilateral relations and symbolises the warm and close ties of friendship between the two countries.
Prior to the state visit, Tuanku Mizan participated in the Pan-American Endurance Race in Costa Azul, about 50km from here, on Friday at the invitation of Vasquez.
The Malaysian team clinched the first place among the six non-Pan American countries, which participated in the gruelling 120-km biennial challenge that involved a cross-country resistance race.
The six non-Pan American countries were Malaysia, England, France, Belgium, Qatar and the United Arab Emirates.
In the overall individual event, Tuanku Mizan, who rode Tormento, came in on 21st place while another Malaysian rider, Datuk Abdullah Taib, came in on 24th.
Tuanku Mizan clocked 8 hours 36 minutes, also to finish second in the non-Pan American category, while Abdullah took third place after clocking 9 hrs 21 minutes. Briton Dominique Freeman clocked 8 hrs 6 mins to win gold in the category.
Abdullah was seen with his right hand in a sling at the prize-giving ceremony at Santa Maria, Costa Azul.
He had suffered a fracture of the right shoulder after he fell from his horse, Horus. He managed to finish the race, riding the last five kilometres of the race with the injury.