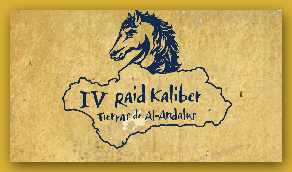 Ecuestreonline.com
24/03/2009
The chairman of the organizing committee Kaliber Lands Raid Al-Andalus, Jose Manuel Soto, presented evidence that in Seville will be held from March 27 until April 4 between Frontera and Jerez de la Virgen de la Cabeza, involving horses and riders from over ten countries.

El presidente del comite organizador del Raid Kaliber Tierras de Al-Andalus, Jose Manuel Soto, presento en Sevilla la prueba que se disputara del 27 de marzo hasta el 4 de abril entre Jerez de la Frontera y Virgen de la Cabeza, en la que participaran jinetes y caballos de mas de diez paises.
Ayer, lunes, tuvo lugar el acto de presentacion de la IV Edicion del Raid Kaliber Tierras de Al-Andalus, que un ano mas recorrera las tierras andaluzas, comenzando el 27 de marzo en Jerez de la Frontera (Cadiz) para finalizar el 4 de abril en Virgen de la Cabeza (Jaen).
Al acto asistieron el jefe de los Servicios de Calidad y Promocion de la Consejeria de Agricultura y Pesca de la Junta de Andalucia, Antonio Rodriguez Ocana; el secretario general para el Deporte de la Consejeria de Turismo, Comercio y Deportes de Andalucia, Manuel Jimenez Barrios; el director de Sponsoring y Eventos de Imagen de Heineken Espana, Diego Antonanzas; y el presidente del comite organizador del Raid Kaliber Tierras de Al-Andalus, Jose Manuel Soto.
En esta edicion de la prueba participaran jinetes provenientes de doce paises (entre ellos Francia, Alemania, Belgica, Estados Unidos, Inglaterra, Portugal, Argentina, Italia y Espana), que recorreran 500 kilometros en ocho etapas.
Como principal novedad, este ano el recorrido escogido sera la ruta del Guadalquivir, que, tal y como destaco Manuel Jimenez Barrios, resulta de vital importancia, dado el reciente traspaso de las competencias de su gestion a la Comunidad Autonoma de Andalucia. Tal y como senalo, se trata de "poner al servicio del rio nuestra inteligencia, de forma que se promueva su relevancia economica, cultural y ambiental", para lo que resultan de gran utilidad este tipo de acontecimientos deportivos.
Diego Antonanzas destaco el interes de Kaliber por patrocinar esta prueba de marcado caracter internacional, cuyo protagonista principal es el caballo, asi como el logo de la cerveza sin alcohol. En sus propias palabras, "esta carrera que merece la pena perder es una oportunidad unica de recorrer los parajes mas increibles de toda Espana".
Jose Manuel Soto, como presidente fundador del Raid Kaliber Tierras de Al-Andalus, remarco la vocacion divulgativa de Andalucia de esta competicion, ya que esta tierra es a la vez el escenario y la gran protagonista de cada etapa, tanto desde el punto de vista paisajistico y medioambiental como del cultural e historico.
Asimismo, Soto resalto la inclusion de una nueva etapa, destacable por su belleza, que permitira mostrar el municipio de Carmona. Sera durante el cuarto dia, y se sumara en espectacularidad a la que atraviesa El Coto de Donana y la que desembocara en el Alcazar de Cordoba. Estas, junto con otras de especial dureza que atravesaran la sierra de Andujar y la de Montoro, convertiran la prueba en un acontecimiento que espera, como cada ano, ganar mas adeptos dentro y fuera de nuestras fronteras.
***
Yesterday, Monday, took place the presentation of the Fourth Edition of Kaliber Land Raid Al-Andalus, a year tour the land of Andalusia, beginning March 27 at Jerez de la Frontera (Cadiz) to finish 4 April Virgen de la Cabeza (Jaen).
The event was attended by the Head of Service Quality and Promotion of the Ministry of Agriculture and Fisheries of the Junta de Andalucia, Antonio Rodriguez Ocana, Secretary General for Sport of the Ministry of Tourism, Trade and Sports of Spain, Manuel Jimenez Barrios; director of Sponsoring & Events Image Heineken Espana, Antonanzas Diego and the chairman of the organizing committee Kaliber Lands Raid Al-Andalus, Jose Manuel Soto.
In this edition of the test involved riders from twelve countries (including France, Germany, Belgium, United States, England, Portugal, Argentina, Italy and Spain), which will travel 500 miles in eight stages.
As the main novelty, this year the tour will be the chosen route of the Guadalquivir, which, as highlighted by Manuel Jimenez Barrios, is vital, given the recent transfer of the powers of management to the autonomous community of Andalusia. As noted, this is "putting the river to our intelligence, so as to promote their economic significance, cultural and environmental", which are useful for such sporting events.
Diego Antonanzas stressed the value of this test for sponsoring Kaliber strong international, whose main protagonist is the horse, as well as the logo of the beer without alcohol. In his own words, "this race worth losing a unique opportunity to tour the most incredible of all Spain."
Jose Manuel Soto, president and founder of the Lands Kaliber Raid Al-Andalus, he disclosed Andalucia vocation of this competition, because this land is both the stage and the main protagonist of each stage, from the point of view environmental and landscape of cultural and historical context.
Similarly, Soto said the inclusion of a new phase, noted for its beauty, which will show the town of Carmona. Will be during the fourth day, and will join in the spectacular crossing the Coto Donana and leading to the Alcazar de Cordoba. These, along with other special hardness to cut through the mountains of Andujar and Montoro, become evidence in a pending event, as every year, gaining more followers inside and outside our borders.
Mas...