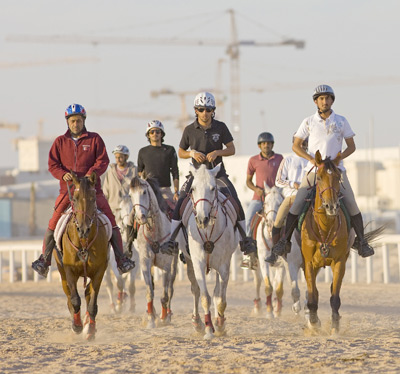 March 19, 2009
Doha, Qatar -- The Al Shaqab Endurance Team will enter a total of 19 riders in the prestigious Emir's Cup Endurance Race that will be held Saturday, 21st March at the Qatar Endurance Village in Mesaeed near Sealine Beach.
The Emir's Cup is the highlight of the Qatar Endurance season and entails winning purses of over QR 1,000,000. The Cup will have a 100km race for Junior-age riders and a 120km race for Senior entrants. Al Shaqab will have twelve Senior entrants and seven Junior riders.
Al Shaqab's Endurance Team, member of Qatar Foundation, is headed by General Supervisor Owaida Al Hajeri, Manager and Trainer Hadi Nasser Al Ramzani and Assistant Manager Jabr Nasser Al Ramzani.
As one of the fastest growing international equestrian events, endurance racing consists of varied terrain through a course in the desert. There are mandatory check points where all horses must pass a veterinary inspection, including tests for heart rate, respiratory abilities and dehydration. A horse must pass the inspection to continue on to the next check point, including a final inspection at the end of the race to clock an official time. Any horse that does not pass a test in the check point, or is considered lame, is eliminated from the race.
Riders competing on the Al Shaqab Endurance team for the Senior race are the following: Atta Mohammed Peer, Mohammed Tahous Saif Al Nuaimi, Khalid Al Malki, Faleh Nasser Saleh Bughenaim, Hanut Singh, Abdulrahmen Al Sulaitin, Essa Ahmed Al Mannai, Khalid Sanad Al Naimi, Jassim Mohammed Al Maadhadi, Hadi Nasser Al Naimi, Mohammed Sanad Al Naimi and Llyas Mushtak Khan.
Competing as a Junior in the Cup for Al Shaqab are: Hassan Tahous Al Nuaimi, Hamad Rashid Al Ardhi, Abdul Aziz Mohammed, Saad Senan Al Kaabi, Abdulla Towaim Al Marri, Rashid Naif Ibrahim and Salem Rashid Al Marri.

P.O. Box 90055
Doha, Qatar
(974) 454-6245
sdohmann@qf.org.qa