Endurance.Net
June 29, 2008
The Edaran Classic 2008 held at the Terengganu International Endurance Park, the venue of the forthcoming World Endurance Championship 2008 in Terengganu, ended today with 8 successful completions out of 18 starters in the CEI 3* 160km ride category and 6 horse and rider teams earning their Certificate of Capability (COC).
Results and Summary
Equine Experts At Edaran Endurance Seminar 2008
On June 27, participants attended an information and knowlege-packed seminar on endurance riding organized in conjunction with the Classic. Speakers at the half-day seminar which was also held at the Terenggau International Endurance Park, included reputed equine exercise physiologist, Dr. Kerry Ridgeway from the USA, equine nutritionist and veterinarian Dr. Peter Huntington from Australia and master farrier Mr. Kevin Crafar from New Zealand.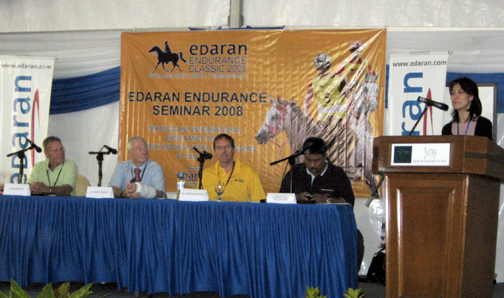 [More ...]