Photo: A racing finish for Young Rider Gold and Silver, on the left and in 1st place, Laura Paiz aboard Nico and only very so slightly behind, Mariano Pita2 with Chaval PP in second place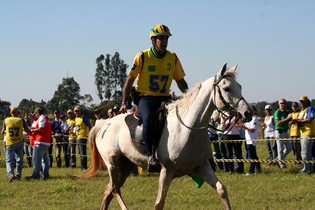 Photo: And for the seniors, the winners are Alexandre Leco Razuck and HDL Pantheon from Brazil
This year's Pan American Championships were hosted by Brazil. The majority of the events were held in Rio De Janeiro but the Endurance section took place in the town of Campinas, found approximately 80km North West of Sao Paulo.
The competition had a smaller number of entries than previous years with no representation from any of the Northern American Nations. Just under 50 combinations started the race, shared between the Senior and Young Rider/Junior classes. The region had experienced abnormal weather conditions for the time of year with torrential down pours, and high humidity. Concerns for the condition of the track and vet gate were raised, but the course held out well and no problems occurred.
The event had been mainly organised by Elizabeth van Schelle, Deputy Chair of the FEI Endurance Technical Committee. Horses were stabled on one of Elizabeth's farms, and the track stayed within her estate at all times. Whilst in previous years the Senior Competition had been over 160km this year the decision was taken to hold both the Senior and Young Rider/Junior categories of the FEI CEI 4* Regional Championships over a distance of 120km.
The course was made up of 4 loops with a final loop of 27km. The trail was over a fairly flat landscape with light undulations in some places. The track itself consisted of mainly dirt roads which was lucky due to the adverse weather conditions!
The competition started at 6.30am on Friday 20 July. The fastest completion of the day was by a Young Rider. Laura Paiz from Guatemala, 20 years of age and in her last year as a Young Rider competitor, stormed to victory with the 9 year old bay gelding Nico in a time of 05h48. Whilst the horse is based in Uruguay the pair had previously competed together in the Young Rider World Championships in Argentina earlier this year. The pair had finished in 20th place in a time of 06h06.
Paiz had a flat out racing finish clinching the title by one second over her rival Mariano Pita from Argentina with Chaval PP. This combination are currently having a wonderfully successful season, this will be the 4th win of the year for the talented pair. The chestnut gelding has won every one of his FEI rides he has entered, winning over distances of 80km, 100km and 120km. Mariano and Chaval PP are currently in 2nd position in the FEI Young Rider Combination Rankings.
Bronze Medal went to Uruguayan competitor Marcela Ott and Baraka Sharjah who completed the distance at 19.09kph, 31 minutes behind gold and silver. This was the third completion of 120km for this pair, having previously taken 2nd place in Durazno in October last year, and winning the YR 120km class at Costa Azul two months ago.
The Senior Gold Medal went to the Home Nation, rider Alexandre Leco Razuck with his mount HDL Pantheon took victory at a speed of just over 20.7kph in a time of 05h49. This is by far the most successful completion for the pair, although clinching 1st place in Bragança Paulista in April the overall speed was considerably slower. The pair had also been selected to represent Brazil in the FEI World Equestrian Games in Aachen last year but were unfortunately vetted out on lameness. An ecstatic Razuck, holding his National Flag aloft, crossed the finish line with his grey gelding looking fresh and well.
Twelve minutes after the arrival of the first place combination another Brazilian Rider came home to take Silver. Maria Vitória Lins Liberal and Filoteu Rach completed the course at 20kph, another personal best. This was only the second outing at an FEI event for this 8 year old gelding. They had finished in 3rd place in Paraopeba in May finishing the 120km in 07h05.
Federico Garcia Pineyrua with EO Dubut, from Uruguay, prevented the Home Nation from taking a clean sweep and finished 5 minutes ahead of the next Brazilian rider. This was the fourth completion over this distance for this combination, adding a third place to their already impressive list of two first positions and a seventh position. Although it was the first FEI competition for the combination this year they finished with a final riding time of just 06h04.
The Senior event fielded a line up of 27 combinations from seven nations, ARG, BRA, CHI, COL, GBR, RSA and URU. 56% of the combinations finished the race with the final horse finishing 3h43 minutes behind the first horse. An impressive finishing rate despite some surprising eliminations. Mercedes Tapia, currently in 7th position in the FEI World Rankings and who had finished 2nd in the Pan American Championships in Argentina in 2005, unfortunately didn't complete the course with her mount Ras Fugada. Mario Schioppa who had won Bronze in 2005 in the YR category of the Pan American Championships also failed to complete.
Both foreign entrants finished well. Carmen du Preez (RSA) with Nag Sharon Bez finished in 11th position with a speed of 16.56kph. Dominique Freeman (GBR) had made the long journey to Brazil for the second time this year completing in 14th place with Roger HCF whom she previously partnered to 7th position in Bragança Paulista in April this year.
The Young Rider/Junior Event had a great finishing rate of 67%. Four Nations were represented, each one having a finisher in the top 4! Gold to GUA, Silver to ARG, Bronze to URU and 4th place to BRA. 14.62kph was the slowest speed of the day for the Young Riders. Rider Karina Camargo Arroyo (BRA) who had finished in 1st place in the Young Rider World Rankings last year finished in 8th position whilst Maximillian Montes de Oca, who had finished 2nd in last year's Young Rider World Rankings had finished in 12th position with El Sheik, his talented 9 year old gelding. This pair have shown a consistent completion rate with no fails since the horse completed his 1st FEI Ride in 2005, 1st position in the YR 120km in April.
The team competition was dominated by the Host Nation. Gold in both the Senior and Young Rider Category. The Young Rider team won their Gold by over 2 hours. Bronze went to Uruguay who had two of their young riders finish the course. In the Senior Race, Brazil was the only nation to get a full team of 3 riders round. This time Silver went to Uruguay with two finishers. No Bronze was awarded as Argentina only had one finisher. Young Leslie Hagen with horse Cashmere, their first taste of the International Scene, kept a cool head and brought her grey mare home, the only completion for her country.
Senior Individual
1st - Alexandre Leco Razuck with HDL Pantheon (BRA)
2nd – Maria Vitória Lins Liberal with Filoteu Rach (BRA)
3rd – Federico Garcia Pineyrua with EO Debut (URU)
Senior Team
1st – Brazil (Alexandre Leco Razuck with HDL Pantheon / André Vidiz with Pyvha Ata / Lilian Bueno Garrubbo with Judah Hem / Newton Lins Filho with NNL Sam Ray)
2nd - Uruguay (Federico Garcia Pineyrua with EO Debut / Pio Olascoaga Amaya with Merlin / Diego Carrasco with Tabu / Julio Machado with Viraz)
Young Rider / Junior Individual
1st – Laura Paiz with Nico (GUA)
2nd – Mariano Pita with Chaval PP (ARG)
3rd – Marcela Ott with Baraka Sharjah (URU)
Young Rider / Junior Team
1st – Brazil (Patrícia Taliberti with Jam Bob Fire / Ana Carla Maciel with Pimpinella JSM / Ana Luiza Lahud with Luthor Rach / Priscila dos Santos with WN Kamalek)
2nd – Argentina (Mariano Pita with Chaval PP / Franco Cuzzani with Gran Indu / Maximilliano Montes de Oca with El Sheik / Isidoro Ibarra with Carlin)
3rd – Uruguay (Marcela Ott with Baraka Sharjah / Esteban Fort with Filou / Ignacio Ospitaleche with EO Jaras / Manuela Antonaccio with Metiche)
Full results of the competition will be posted as soon as possible.
FEI Website - article