Italy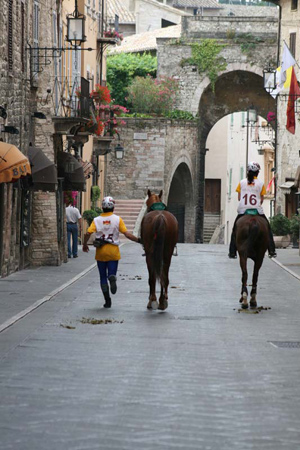 Assis Endurance Lifestlye: Bab Al Sham's Endurance Cup concluded with Italian rider Patrizia Giacchero taking the top prize on 'India' in a ride time of 7:27:19. The 120km course traversed fields and hills, with spectacular views of historic architecture and Italian countryside all around.
The venue was at the Misura Endurance Village, near Perugia Italy. Misura Endurance Village was built with a modern artistic open-air theme, to provide guests and competitors with a functional and elegant venue. Open-air restaurants, bars, galleries and shops dot the beautiful setting of the Endurance Village.
The organizers of this gala Endurance Event provided transportation, accomodation, stabling, and lodging for competitors from across the European continent. 94 horse and rider teams entered the event and 20 received completion times.
Full coverage of the event can be found at
Endurance.Net - Assisi
.
Top Ten Finishers:
1 Patrizia Giacchero / ITA India 07.27.19
2 Daniela Blasi / ITA Los Angeles Estashadek 07.37.11
3 Diana Origgi / ITA Primula Baia 07.44.23
4 Nicholas Cianfrocca / ITA Dameliette 07.44.26
5 Maria Alvarez Ponton / ESP Kalynka De Montegut 07.52.15
6 Marta Bravi / ITA Big Sky Fyrre 08.37.17
7 Ivan Fondriest / ITA Sharaby 08.38.19
8 Loris Venturi / ITA Zodjaco 08.38.19
9 Mario Cutolo / ITA Zyad El Asil 08.53.07
10 Vincenzo Catalano / ITA Parytet 09.01.15
[More ...]