An International Race of Champions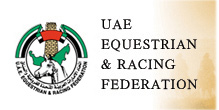 30 International Riders have been invited to participate in the 6th annual running of HH President's Cup Endurance Race on 17 February 2005. In most cases, these invitations are awarded to winners of prestigious endurance events from around the world. This makes the HH President's Cup an race of international champions!
The 160km CEI*** event will be held at the
Emirates International Endurance Village
near Abu Dhabi in the United Arab Emirates.
[More ...]
EnduranceNet Event Coverage