EnduranceNet Scoop!
Photo by Grace Ramsey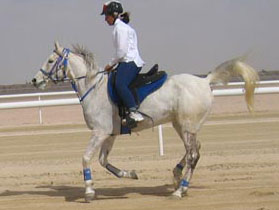 Sheikha Madiya bint Hasher Mana Al Maktoum will ride Saif al Arab in the upcoming President's Cup on the 17th of February. She will join 125 other competitors in the grueling 160km course through the sands near Abu Dhabi UAE. Sheikha Madiya is an avid endurance competitor andwill attempt to complete the course within the allotted time.
She previously competed in the UAE CEI** Nation Cup event in January. Successfully completing the course. Her first 160km completion came last August at the Abu Dhabi Arabian Nights CEI*** event held in Oreana Idaho USA.
Sheika Madiya has
trained extensively
in preparation for this event and brings with her a seasoned mentor in Grace Ramsey of the United States.
Sheika Madiay is setting a fine example for riders in the UAE, helping to spread the feeling that endurance is accessible to all who which to become riders!
Full Event Coverage by EnduranceNet