Endurance riders set for top race
Gulf Daily News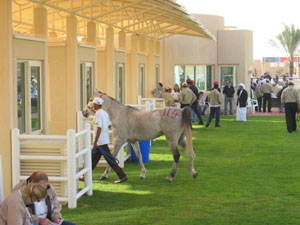 BAHRAIN's endurance horseride team continued their preparations for the World Championship which is scheduled for tomorrow starting at 5am Bahrain time at the Dubai Endurance City.
A total of 183 horses from 48 countires are taking part in this one-day event, the biggest equestrian endurance event in the sport's history which will cover a distance of 160 kms.
The Bahraini team is led by Bahrain Royal Equestrian and Endurance Federation (Breef) president Shaikh Nasser bin Hamad Al Khalifa of the Royal Endurance Team and includes Breef first vice-president Shaikh Khalid bin Hamad Al Khalifa of Al Khaldiya Stable, Shaikh Daij bin Salman Al Khalifa of Al Talia Stable, Shaikh Salman bin Saqer Al Khalifa of Ahmed Al Fateh Stable and Royal Endurance Team riders Hamad Al Meraisi and Yousef Taher.
[More ...]
EnduranceNet Coverage