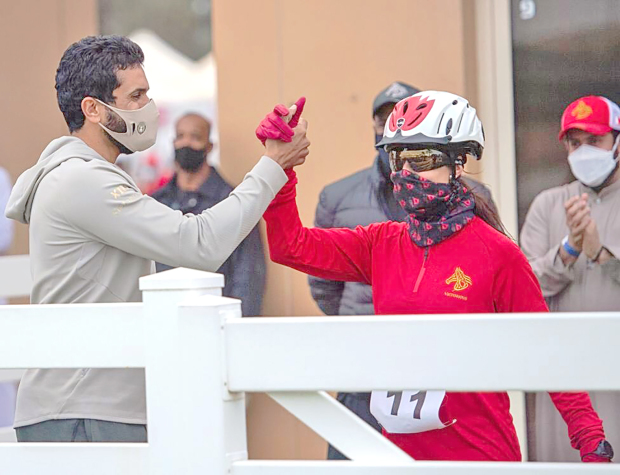 GDNOnline.com - Full Article
Mai Al-Khatib-Camille (mai.alkhatib@gulfweekly.com)
Wed, 07 Apr 2021
Gulf Weekly: AFTER being away from the podium for more than five years, endurance racer Manal Fakhrawi hopped back in the saddle to gallop her way to victory in the King Endurance Cup ... and she hopes her win will inspire more athletes to never give up.
The win means the world to the new mum, who spent the past year training rigorously for the four-day, 160km competition held at Bahrain International Endurance Village.
"Winning the King's Cup means the world to me as it's the most important race in the kingdom," said Fakhrawi who races for Team Victorious, led by Shaikh Nasser bin Hamad Al Khalifa, His Majesty King Hamad's representative for humanitarian work and youth affairs, Supreme Council for Youth and Sport chairman, and Bahrain Royal Equestrian and Endurance Federation honorary president.
"I worked hard last year to make a comeback after being blessed with a baby girl. It was a challenge, I am glad all that hard work paid off."
Fakhrawi, who has been competing for more than 20 years, clinched first place in 6 hours and 31 minutes...
Read more here:
https://www.gdnonline.com/Details/941165