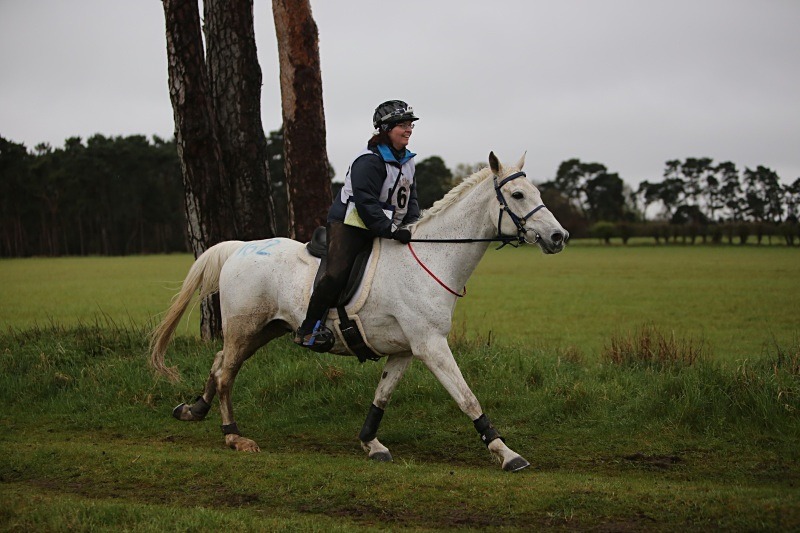 25th April 2016
Kings Forest near Thetford, Norfolk was the setting for three days of competitive routes through the iconic woodland of 'The Brecks'. This unique area covers 393 square miles – the UK's largest lowland forest, with miles of tracks and paths making it an ideal setting for Endurance GB's main class of the weekend – a CEI 3* 160km (100 miles) competition. This distance is the ultimate challenge to the Endurance rider and four combinations rode up to the start line last Saturday morning in the dark at 5.00 am, head torches at the ready. The route comprised 6 loops, all coming back to the venue at Wordwell for strict veterinary checks and controlled rest breaks. The weather proved the biggest challenge on the day with a cold wind and persistent rain, with occasional hail, making the going slippery in places and special attention needed to stop horses and riders getting cold at rest points.
Two horses were stopped during the day by the vets due to minor lameness. The remaining two combinations went out together on the final loop with darkness descending. A strong bond develops between riders at this level of competition. Riders work together to motivate each other and their horses. Fiona Griffiths from Powys, South Wales, riding Oliver Twist IV and Mel Bradley from Devizes, Wiltshire, riding 15 year old CS Khan, owned by Linda Cross, left the venue knowing that they were running close to the maximum time allowed. A small crowd gathered at the finish line waiting for news from the course. Word came in that they were approaching the finish line and a cheer went up. Mel and 'Khan' came into view with only minutes to spare, urged on by their crew. They dug deep and cantered brightly to the finish with just 22 seconds remaining on the clock. Fiona felt that 'Oli' was tired and decided to slow down on the last loop so finished some time later but to equal cheers from the waiting group. Both horses passed the final vetting in good form but sadly no completion for Fiona due to being out of time.
Mel Bradley was thrilled with her win. "This has been my biggest win yet and brought up so many emotions. It was the most amazing feeling cantering towards the line with people cheering us on after such a long hard day. It certainly picks you up! After all Khan has been through we could only dream he would get around a 160km and he has done us proud."
The other FEI classes yielded a good completion rate, with many happy riders achieving their qualification goals.
The weekend also had a full schedule of supporting classes at every distance demonstrating that Endurance really is a sport for everyone. The event was sponsored by Bury St Edmunds based, Science Supplements – leading suppliers of equine supplements, with welcome 'goody bags' and prizes galore. The riders and officials also benefited from a heated marquee generously provided by local FEI rider, Nicki Thorne and her husband, businessman Andy Thorne of Kestrel Liner Agencies.
The next Endurance event at this venue will be over the weekend of the 8th to 10th July and details can be found on our website:
www.endurancegb.co.uk

Results from main classes:
Saturday 16th April
CEI 3* 160km
1st Mel Bradley and CS Khan  14.00 kph
CEI 2* 120km
1st Harry Ingram and Warren Hills Chayze  16.81 kph
2nd Rachel Pemberton and Deemonstrator  14.40 kph
3rd Ruth Chadwick and Aragorn  14.11 kph
4th Heather Whiteley and Distance Oasis  13.81 kph
5th Amy Theodorou and My Marco  13.10 kph
CEIYJ 2* 120km
1st Katie Bedwin and Burfield Goodie Two Shoes  14.76 kph
CEI 1* 80km
1st Lesley Ann Parker and Velvet Echo  18.48 kph
2nd Robert Newall and Loti du Caussanel  15.53 kph
3rd Lauren Mills and Crystal Magic Star  15.38 kph
4th Andrea Champ and A Little Bit of Magic 14.74 kph
5th Pam James and HS Asraf  14.74 kph
6th Francesca Bakker and Aratahnes Aphrodite  14.30 kph
7th Amy Boston and Burfield Court Appearance  14.06 kph
8th Susan Cox and Eden El Nyhl  13.03 kph
Completion Fiona Bloom and Verwa
CEIYJ1* 80km
1st Tess Wheldon and Verythas de Loc 17.12 kph
2nd Ella Bunting and Eas Boadicea  16.32 kph
3rd Tessa Kilpatrick and Aratahnes Phoebe  14.97 kph
National CER 80km
1st Antonia Hardwick and Shingle Street Speshal 18.93 kph
2nd Julie Kendall and Perfeq Pacha De Blaziet 18.86 kph
3rd Lesley Anne Booth and Rassam 18.08 kph
4th Josie Ratter-Evison and Krayaan Nasser 15.28 kph
Sunday 17th April
CEI 1* 80km
1st Ylva Sam Mowatt and Terminator's Dream  17.33kph
2nd Carri Ann Dark and Emir  17.18 kph
3rd Abigail Tennant and Barik  16.73 kph
4th Linda Cowperthwaite and Maraday Mystaron  16.73 kph
5th Susan Hawes and Remynisce  13.62 kph
6th Andrea Champ and Drumghigha Lantana  13.39 kph
The photo is of Mel Bradley riding Linda Cross's CS Khan to win the CEI 3* 160km event.  Photo credit:  Saunders Photography.
Endurance GB - National Governing Body for competitive Endurance horse riding in Great Britain a member body of the BEF. Offering rides for non-members and members from pleasure rides to competitive rides
www.endurancegb.co.uk