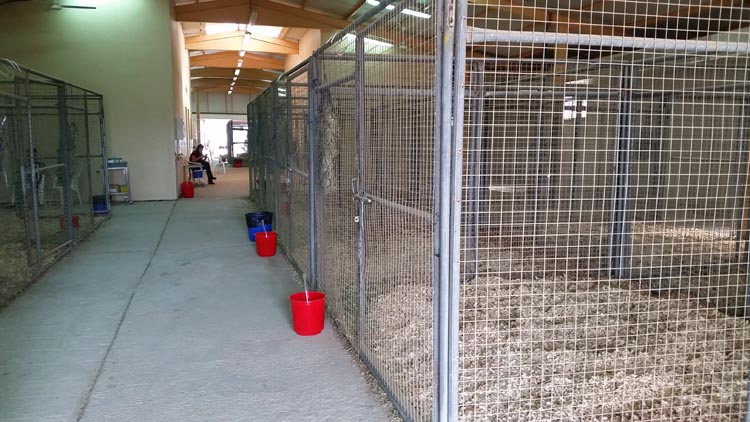 Enduroonline.com.br - Full Article
Text and Clinic Photo: François Kerboul - FEI 4 *
Thursday, December 31 was a historic day in Bouthieb Endurance Village (Al Khatem, Abu Dhabi, UAE): During the CEN 1* 90 km Emirates Heritage Club for Ladies with 59 competitors, the clinic remained desperately empty, which, according to officials, had never happened since the beginning of endurance in the UAE. HH Sheikh Sultan bin Zayed Al Nahyan - Representative of the President and Chairman of the Emirates Heritage Club (EHC) -, the organizing committee, the officials, the participants, etc. everyone felt authorized to say, with undisguised pleasure and black humor, that this was a true disaster ... for the employment of treating veterinarians, who were overwhelmed with joy having spent a very boring day.
It's clean, it's all ready, it's empty. In the background, a "desperate" veterinarian is waiting.
The second day of competition, January 1, was similar with 2 events (CEI 1* 80 km Emirates Heritage Club Cup in 3 phases and 89 competitors, plus a CEN 1* 100 km Emirates Heritage Cup for Pvt. Owners in 4 phases with 39 competitors) accumulating a total of 128 horses on the track. The day passed with a single mild metabolic case receiving only a treatment of 5 liters of fluid without any additives, a sort of comfort treatment. And nothing else.
The third day, January 2, there was a CEIJY 2* 120 km Emirates Heritage Cup in 5 phases with 55 starters on the track. Only 3 horses were presented, they had lost their riders who had fallen down on the first phase in the light sandstorm with reduced visibility and which were caught and taken to the clinic, then immediately released as nothing justified their presence. On the third day 3 there were 3 metabolic cases, 2 without any treatment and 1 receiving 10 liters of fluid without any additives, plus 3 lamenesses of which one only was treated with a small dose of anti-inflammatory. And that's all.
So, in three days of racing, four competitions, 242 horses, only 3 horses received a light medical treatment mainly out of caution.
This was a remarkable way to end 2015 and start 2016 in Bouthieb Endurance Village. The new competition parameters, implemented regularly for the first time (including 10 minutes of recovery time, even for the finish with a maximum heart rate of 56 bpm and hold time of 50 minutes each loop) produced more effect than we all hoped and there reigned an unprecedented atmosphere of surprise, satisfaction, analysis and research, intellectual ferment mixed with a previously unknown joy. For the first time HH Sheikh Sultan bin Zayed Al Nahyan (photo), who usually did no more than pay one or two visits per season, remained permanently on the site during the three days and even chaired the Wednesday briefing of the first competition.
The new president of the national federation – a show jumping rider - came many times, to visit the clinic, going around the venue, to go on the tracks, unlike its predecessor who had never been seen there...
Read more here:
http://www.enduroonline.com.br/Disaster-in-Bouthieb-Empty-clinic-result-of-the-new-parameters-enforced.php