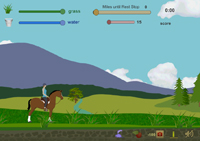 Endurance.net Games
Endurance.net's
Steph Teeter has just released the world's first* Endurance Riding video game.
The goal sounds simple: You will ride your horse safely to the first rest stop. However, there are plenty of trail challenges and obstacles along the way, including jumps, rocks that your barefoot horse must negotiate at a walk, spooky monsters you must walk past, and flying monsters you must dodge. You'll need to watch your pace, time your jumps, and be sure to eat and drink to keep your horse healthy. Collect apples for extra points. First aid kits will assist your horse when necessary, but will also deduct points. Scores are calculated on time elapsed till the first vet check, amount of water and food and apples ingested along the way, and first aid required.
It is currently playable for free on your computer with a safe and simple Unity Web Player download. Play on Smart Pads and iPhones is just around the corner.
"Learning how to make games was a big project, and they will improve as I get better," Steph says. "I think you'll enjoy playing once you figure out the controls, the points scoring, and the goal. I have many more games planned - and will also eventually make them playable on smart pads and phones, and add multi-player functionality. And let you pick your horse and rider, maybe buy boots and special tack items, and other features. But that's another learning curve... this is just a start! Stay tooned!"
Get the game here:
http://www.endurance.net/Games/
Try it out, and send comments and questions to
steph@endurance.net
.
*It's
probably
the world's first endurance riding video game. If not the first, it's the most fun!