Sunday, May 10, 2009
Australia: Margaret Wade still in coma after fall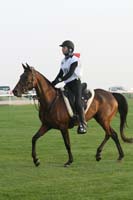 Gulfnews.com
By Satya Narayan, Senior Reporter
May 08, 2009
Abu Dhabi: One of the world's top endurance riders and a well-known faces in the UAE's domestic circuit, Margaret (Meg) Wade is still in coma since a fall during a ride in Tumbarumba, Australia on April 12.
Wade, a champion rider and a breeder and trainer of endurance horses, was riding Castlebar Dell when the horse shied away from a puddle unseating her.
"I was not there at the scene but since it happened close to a checkpoint she was attended by a doctor and ambulance staff," said her husband Chris Gates, speaking to Gulf News yesterday.
"Wade was airlifted by Snowy Hydro Southcare Rescue Helicopter to Royal Canberra Hospital where she has been in coma since then," said Gates.
"Her medical condition has improved and clinically it is not life threatening. But the doctors are waiting for her to come out of the coma. There seems to be a slight, very slight response," said Gates.
Wade, who had finished second in a 90-kilometre Ladies Ride in Al Wathba after a 19th place finish in the 160-kilometre HH The President's Cup during the recently-concluded UAE endurance season, has had many horses bred and trained at her Castlebar facility in Australia.
Wade has won three bronze medals at the World Endurance Championships, finished 4th individually in 2002 when Shaikh Ahmad Bin Mohammad Bin Rashid Al Maktoum won the gold medal, has been Australian Rider of the Year nine times and won the world-famous Tom Quilty Gold Cup four times.
"We are devastated. Meg was a champion athlete and has never been in hospital. Very fit and athletic. I am confident that she will fight her way out of this," said Gates.
Meg has been a regular participant in rides in the UAE since the 1998 World Championship and her husband said, "We received many calls from the endurance fraternity in the UAE and the world. The Royal families of Dubai and Bahrain have been enquiring about her progress," he said.
Soon after the accident Gates had in an interview to ABC Radio said, "This is an injury that every horse rider fears. It happens, it's unfortunate. The riders all wear helmets but it's the fear behind everyone to have an accident that's so devastating,"
Gates said the fall was a freak accident, and other than her head injury, "Meg never sustained another injury. There's not a mark on her body."
abc7amarillo.com - Full Story by Tiffany LesterWednesday, September 11th 2019 GRUVER, Texas — The Mongol Derby is known as the world'...

Everythinghorseuk.co.uk - Full Story 04/01/2019 Readers Blog: Anne's story Written by Anne Binnendijk Mongolia, the country with f...

Stuff.co.nz - Full Article Last updated 19:47, August 10 2015 Three Kiwis, including one from New Plymouth, are in the leading group o...