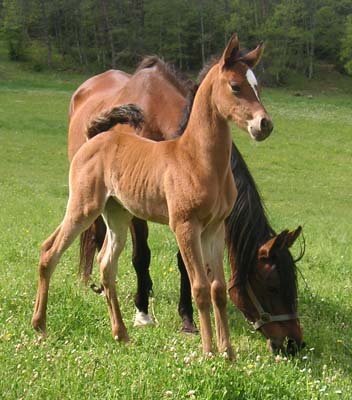 5 May 2008
Pierazade du Vialaret, the first foal of the cloned stallion Pieraz-Cryozootech-Stallion, has been born in France from the mare Dziupla. The mare and foal are owned by Audrey Genieys of
Le Vialaret
in Campagnac, France.
"The story begins in April 2007," says Audrey, "when we decided to have a foal of the double world champion. We tried with 3 mares, but only Dziupla worked. Then, it was a normal pregnancy, nothing else to do. The birth was the 5th of May at a quarter past midnight. Everything was OK, the foal was lively and magnificent, filled well."
Pieraz-Cryozootech-Stallion was born in 2005 in Italy, and now stands at stud in France. He was cloned from the gray gelding Pieraz, winner of the World Endurance Championship in 1994 at The Hague with Valerie Kanavy, and the World Endurance Championship in Fort Riley in 1996 Valerie's daughter Danielle Kanavy. In total Pieraz won 12 160-km races.
Dziupla is a granddaughter of Probat, the leading progenitor of the Comet line in Poland, and major sire of champions in Poland, Scandinavia and the USA. Dziupla has produced Djedda du Vialaret and Devine du Vialaret, both qualified endurance horses on a top 10 at 119 km, and both owned by Audrey Genieys.