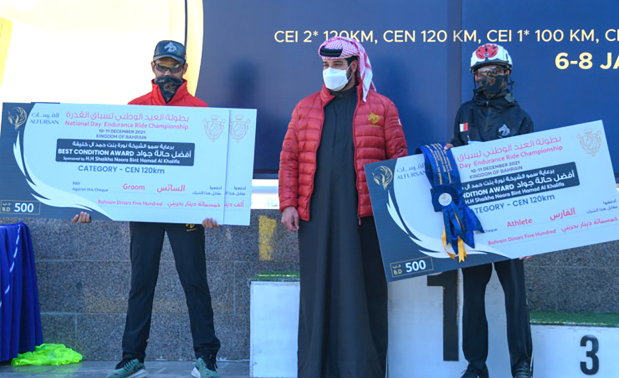 GDOnline.com - Full Article
Mon, 10 Jan 2022
Victorious have won the Best Horse Condition Award in the National Day Endurance Championship, organised by the Bahrain Royal Equestrian and Endurance Federation (Breef) and accredited by the International Federation for Equestrian Sports.
In the 120km race, jockey Isa Hameed Al Enzi, trainer Ahmed Janahi and the horse Savin from Victorious Team won the first place, while jockey Ahmed Saleh Al Nuaimi, trainer Abdulla Helal and the horse Ghala from Al Asayel Stables won the first place in the 100km race.
The Best Horse Condition Award is sponsored by Al Fursan Team Captain Shaikha Noora bint Hamad Al Khalifa...
Read more here:
https://www.gdnonline.com/Details/1019199