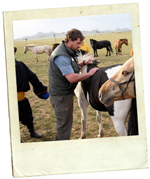 With riders from 7 Countries - UK, USA, South Africa, New Zealand, Australia, Belgium and Venezuela - the 2010 Mongol Derby is set to be the most hotly contested yet.
Riders include a Martial Arts expert from Texas, an Olympian 'Madonna' from New Zealand, two siblings from South Africa and a brave Brit who previously broke her back riding a horse.
2009 Mongol Derby was a "huge success...a brand new sport tourism variety"
Dr. Orgil, Director of the Ministry of Agriculture's Veterinary Unit and the Chief Equine Vet in Mongolia
The Mongol Derby team have announced an innovative Veterinary Training Programme that aims to leave a lasting equine legacy in Mongolia.
More than 20 local vets will be trained to become part of the international team of equine experts that will ensure the welfare of the 1000 semi-wild horses taking part in the race across the Mongolian steppe.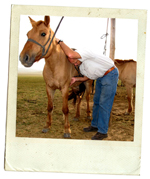 Led by four star accredited FEI vet Jenny Weston, the specialist training will also leave a legacy that will benefit other events and races in a country renowned for its love of horses.
"The training will cover exercise physiology and the types of conditions that you see in horses involved in endurance riding and the long-distance horse racing that is a part of Mongolian culture," explains Jenny. "This will benefit not only the horses involved in the Mongol Derby but also the many thousands involved in the annual Nadaam festival."
The training is part of a comprehensive horse welfare program including pre-race training for the riders led by Maggie Pattinson, Chef d'Equipe of the British Home International Endurance Team.
Please also see this
link
for a full veterinary report on the inaugural 2009 Mongolian Derby.
The race format is based on Chinngis Khaan's legendary postal system which could relay messages thousands of miles in a matter of days. Horse stations manned by nomadic families are established at intervals of 40km or less along the course and riders change horses and undergo veterinary inspections at each one.
The Mongol Derby is a joint venture led by British company The Adventurists with Mongolia based Tengri Group and backed by the Mongolian government's Ministry of Agriculture who acclaim the Mongolian Derby as "having great potential to develop our country".
Applications are open now for 2010 to adventurous riders from around the world. More information about the world's longest and toughest horse and how to apply can be found on the official website:
www.mongolderby.com
Fast Facts about the Mongol Derby
25 riders started the 2009 race, 23 finished and they raised £71,000 for official charity Mercy Corps' projects in Mongolia
Aged from 21 to 65, the 2009 riders came from 8 different countries including Argentina, Sweden and South Africa. 12 of the riders were female
Less than 2% of the 700 horses that took part in 2009 required treatment which was all minor first aid
The riders averaged 100 km per day at about 10 km/hr in 2009
On cooler days some riders managed about 140 km in a day on the better days, at an average speed of 14 km/hr
Horses outnumber the population of Mongolia by 7 to 1!
Marco Polo wrote that in the 13th century 300,000 horses were posted at horse stations across the great Khaan's empire
Rider Biographies
The 2010 riders come from the following countries:
UK
USA
South Africa
New Zealand
Australia
Venezuela
Belgium

USA
Hilary Ponti, USA, 47.
US born, Gloucestershire housewife and mother. Hilary ran the 2009 London Marathon and is a member of Cotswold and Heythrop Hunt. She is also an accomplished event rider.
Kat Swigart, USA, late 30s
Seriously tough Californian boasting a number of professions: horse trainer, graphic designer, business consultant, freelance writer and photographer, computer systems engineer and financial analyst. 
Kat lived in Russia after the collapse of Soviet Union building computer systems for the Russian stockmarket. A hugely experienced endurance rider she has completed 5000 miles of sanctioned endurance riding in the USA.
Justin Nelzen, 33, US
Professional endurance rider. Justin has ridden competitively all over the world and runs a professional equine facility in Texas where he breaks and trains horses.
He has raced in Dubai, the Tevis Cup and the Pan American Championships to name a few. Amazingly, he only took up riding a few years ago and previously served in the US Navy and Marine Corps including tours to Iraq and Afghanistan.
Justin also took part in the World Games for Martial Arts in 1997, where he won one silver and two bronze medals.
UK
Georgina Budge, UK, 28
Incredible determination brings Georgina to the Mongol Derby. In September 2008 she broke her back in a riding accident but has recovered to take part in the 1000km horse race across Mongolia.
Georgina is a martial arts specialist and has trained in North East China for 3 months. A self employed chef, she has also worked in a point-to-point yard and is an experienced rider.
Anna Bradbury, UK
Diplomat
Biography TBC
Richard Dyer, UK
Biography TBC
Susi Saddler, UK
Biography TBC
Rhiannon Thomas, UK
Biography TBC
Tom Welsh, UK
Biography TBC
Camilla Speck
Biography TBC
Camilla Swift, UK
Biography TBC
Anya Campbell, UK
Photographer
Biography TBC
NEW ZEALAND
Madonna Harris, New Zealand, 53
A serious athlete, double Olympian and entrepreneur, Madonna runs her own company manufacturing herbal products.
Since taking up endurance riding she has competed at the World, Pan American and European Championships. Incredibly she has also represented New Zealand at Olympic level in cycling and cross-country skiing.
Netta Burnside, New Zealand
Biography TBC
SOUTH AFRICA
Saskia van Heeren, South Africa
Saskia took part in the inaugural Mongol Derby in 2009 and enjoyed it so much she's back for the 2010 edition, and has also signed up her sister Alexandra to make up the Derby's first family team.
An international art dealer by trade and life-long horse lover, Saskia grew up in New Zealand where she rode for days at a time across wild terrain on the South Island.
Alexandra van Heeren, South Africa,
Alexandra's adventurous sibling took part in the inaugural Mongol Derby in 2009 and now both sisters are taking part in the 2010 edition to make up the Derby's first family team.
She has climbed numerous mountains in the alps; is a keen sailor having spent six months sailing around Fiji; enjoys kite-surfing and like her sister grew up riding horses.
Gina Abbott, South Africa
Biography TBC
Elsa Post, South Africa
Biography TBC
OTHER COUNTRIES
Alisa Vermay, Australia
Biography TBC
Moises Birnbaum, Venezuela, 61
An engineer and professional endurance 3* FEI accredited rider who competes internationally. He has taken part in the Tevis Cup among other high profile events.
Sophie de Selliers, Belgium
Biography TBC