By Amith Passela
17 February 2006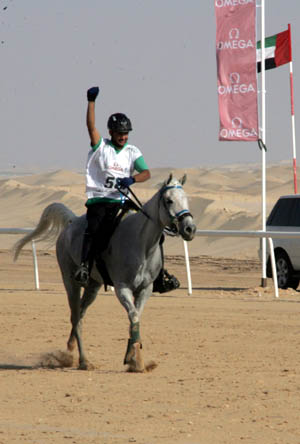 ABU DHABI ? Twentyfour-year-old Dubai policeman Nasser Abdulla Mohammed Al Marzouqi claimed the President?s Cup on Kaysand Farrazah from defending champion Marzooq Salem Al Marri on Ro-Fabiola here at the Emirates International Endurance Village in Al Wathba yesterday.
Nasser?s first ever victory in seven years was also the first President?s Cup in seven attempts for owner His Highness Shaikh Mohammed bin Rashid Al Maktoum, Vice-President and Prime Minister of the UAE and Ruler of Dubai.
The 2001 winner of the coveted title Hassan bin Ali, on Moonlight Princess, finished third ahead of Majed Mohammed Salman Al Sabri, Salem Rashed bin Ghadayer and Shaikh Hamdan bin Mohammed Al Maktoum.
[More ...]
EnduranceNet Coverage