Prince Abdul Hamid Mohammed Al Saleh
, the son of Princess Alia Bint Hussein of Jordan, rode in the Sh Saeed bin Hamdan Qualifier. He now plans to ride in the Junior Young Riders Presidents Cup to be held at Boudthib on February 17th.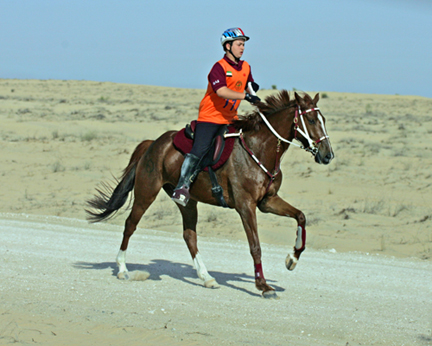 Prince Abdul received his pre ride training at Wrsan Farm by the invitation of HH Sh Sultan Bin Zayed Al Nahyan, UAE Deputy Prime Minister. The five day course conducted by Dr Marcello Grilo encompassed all aspects of endurance training. The essential factor of the course was the hands on experience that the young Prince under took.



The resident head farrier at Wrsan Lauret Deury assisted by Ferran Llagostera and Herve Gilles, demonstrated how the horse shoes were made and explained the different types of shoes. Prince Abdul guided by Lauret made a horse shoe which he proudly showed to Sh Sultan who kept a close eye on his progress. Another task he performed was rasping teeth assisted by Dr Marcello who gave a very detailed lectured on this subject. . Dr Navaldo explained the work of the veterinary clinic and introduced him to the equipment and explained the diagnostic x-rays.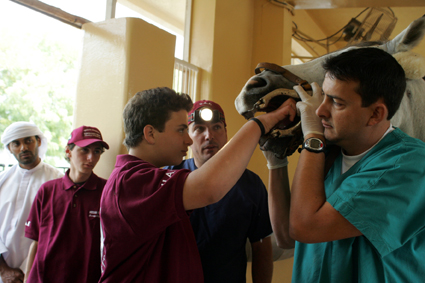 Well before sunrise Prince Abdul joined race horse trainer Jaci Wickham to watch the horses exercise on the track. He was particularly impressed with Tronasonic who had just won two races within a week. Armed with a packet of polos they were soon best friends.


Wrsan's premier Arabian Stallion Monarch AH was the star of the swimming pool as he leapt in with great enthusiasm before the Prince helped swim one of the endurance horses. The Prince enjoyed an in depth conversation with the stud Manager Deidre Hyde ,one area in which the young Prince had abundant knowledge, as his mother Princess Alia is a leading breeder and top international judge of Arabian horses. Other aspects of the course covered feeding, stable management, and quarantine procedures .