Leonard Liesens
Endurnace-Belgium.com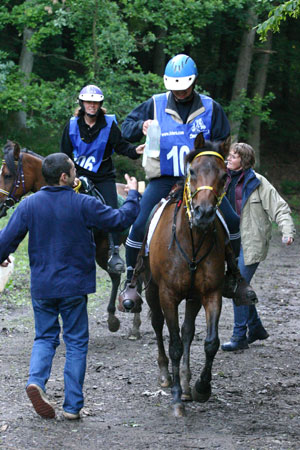 The 2004 Belgian National Championship was won by Jacques Boulanger, riding Shannon, an arab-trotter. The L'Ardenaise - CEI ****/***/**/* event was held 27 June at Harre Belgium.
The Harre course is a very very difficult race, taking place in the hilliest part of Belgium, in the south, in the region of the Francorchamps F1 Grand Prix. This is also the region where the famous ?Battle of Ardennes? took place at the end of the WWII.
The course presents an unending up and down with an average altitude difference of 400 meters each cycle.
The Belgian Enduance squad continues is preparations for the upcoming 2004 World Endurance Championships in Dubia next January.
Ride Results Summary
www.endurance-belgium.com