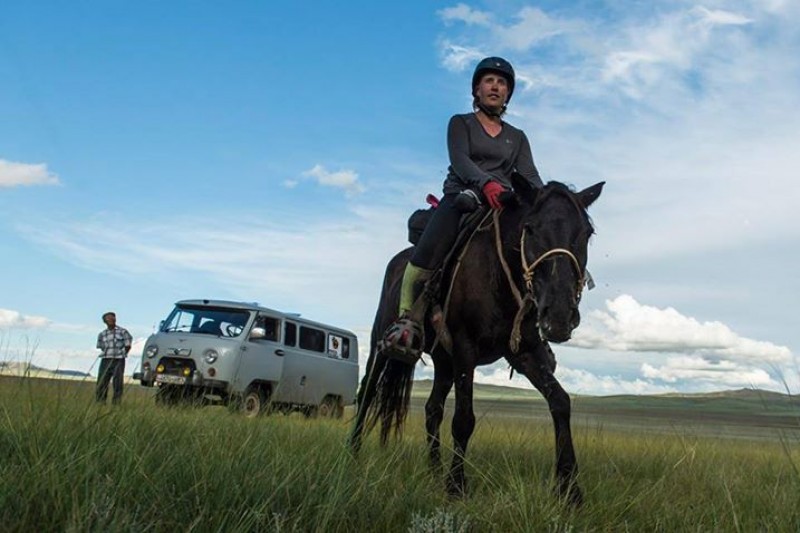 by Merri Melde-Endurance.net
July 16 2015
It wasn't in her plans, but Texan Devan Horn will return to Mongolia to contest the 7th renewal of the Mongol Derby on August 5-15. Billed as "the longest and toughest horse race in the world," it traverses the Mongolian Steppe, following part of Genghis Khan's 13th century relay postal system (think the US Pony Express on super steroids), with riders navigating by map and GPS, and changing horses every 40 km at Urtuus, or stations, eating and sleeping with locals in their gers, or eating and camping out in the open. The Mongolian ponies are billed as "semi-wild." Danger and hardships are guaranteed; so is an incredible experience of a lifetime.
The Adventurists, who put on the Mongol Derby, put out a call only weeks earlier to veteran Mongol Derby riders, hoping to fill spots after several dropouts for this year's Derby. "After some hard thinking, some meditation, a couple of cocktails, and some of the most rigorous fitness testing I've ever put my body through, I've decided it's time to pick up the proverbial sword again," Horn said.
It was the 2013 Mongol Derby, where Horn crossed the finish line first after riding a 'near immaculate race', but received a 2 hour penalty when her horse did not pulse down in the required time, which gave the victory to Britain Lara Prior-Palmer, second over the finish line an hour later.
Despite the short notice, Devan is ready to have another go. "In 2013, I rode with all my heart and all my strength. This year, my heart and my strength are far greater, and I mean to ride as best I can."
Mongol Derby participants are required to raise money for charity, and Horn's
chosen charity is the Houston SPCA
, a place near and dear to her heart.
Over 20 riders from around the world (USA, United Kingdom, Spain, Switzerland, New Zealand, Australia, Austria, Sweden, Netherlands, France, Canada, Norway, South Africa) are expected to participate.
Check out the contestants, and stay tuned for updates at
http://www.endurance.net/international/Mongolia/2015MongolDerby/