Alice Proust
Endurance.Net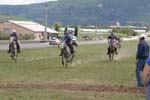 Buchel Benoit riding Miette Coco raced to finish first in the qualification race for the upcoming World Endurance Championship for Young Horses.
(Detailed results:
Complete Result(PDF)
.
The race was the first event of the 3 day Endurance Festival which will culminate in the race for the 2007 CEI** Championship of France which will be held Saturday on the same course.
[More ...]